Is Liposuction Surgery Safe?
Dr. Lokesh Handa
Liposuction surgery in Delhi is an entirely safe method to remove any stubborn subcutaneous fat from any part of your body. Due to it being labelled a surgery, many patients are understandably apprehensive about it. However, when they commit to a strict diet and exercise regimen for months to no avail, they begin seriously considering liposuction.
Liposuction refers to the permanent surgical removal of subcutaneous fat – the layer of fatty tissue and cells present right below your skin and the hardest to burn. Therefore, no matter how many ab exercises you do or how many runs you go on, you may be reaching  no results. In such cases, liposuction dramatically helps, especially with the advanced technology available today.
What makes liposuction surgery in Delhi safe today?
High-quality technology and modern techniques have immensely improved safety during liposuction surgeries today. While the procedure in the past was considered a risky one, with the introduction of minimally invasive power-assisted and ultrasound-assisted tools, liposuction is much safer than ever before.
This is reflected in the procedure's booming popularity, with it being one of the most requested cosmetic surgeries in India and across the world today. While it does have its fair share of risks, these are easily avoidable when you undergo your surgery at the hand of an expert.
Under such considerations, even the most traditional form – tumescent liposuction – is entirely safe. Many patients opt for this technique to keep liposuction surgery costs low. When they visit a specialist who understands the nuances of the procedure and aesthetic symmetry, they get a highly refined procedure.
Traditional or Tumescent Liposuction
Tumescent liposuction is a straightforward procedure involving incisions directly on the skin, where fat removal is desired. Depending on the area and extent, the surgeon may put the patient under general or local anaesthesia for the surgery.
Through the incision, your surgeon injects a unique tumescent solution. This solution liquefies fat, enabling easy removal through the inserted cannula. The cannula itself is further attached to a suction device or syringe. The fat is smoothly removed from the area using a negative pressure function, leaving you with the toned, contoured results you desire.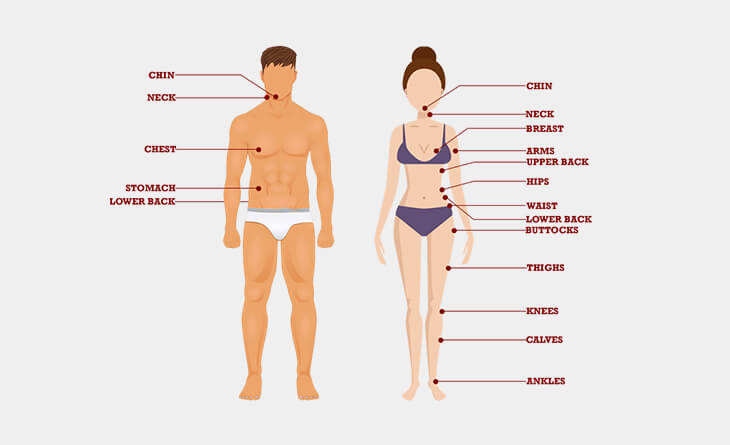 Other Options for Liposuction Surgery in Delhi
While tumescent liposuction is a standard method, it is far from your only option. As mentioned previously, there are several innovations for faster, more sophisticated procedures that promote a quicker recovery. It is important to note that many of these are not only highly safe but prove safer than traditional liposuction, given their refinement. They are as follows.
Ultrasound-Assisted Liposuction (UAL)
UAL is a procedure involving an ultrasound-assisted cannula. This means that the tip of the cannula emits ultrasonic waves into the fat, collapsing cell walls with its ultrasonic energy. As a result, the fat gets liquefied, ensuring much easier removal.
UAL devices have the additional benefit of heat generation. This helps the skin to naturally shrink to an extent over the now etched out muscle, creating much more natural contours after your liposuction surgery in Delhi.
Power-Assisted Liposuction (PAL)
PAL is similar to tumescent liposuction in that it operates on the same principles but mechanises them. What does this mean?
Well, this minimally invasive procedure involves a tiny incision through which your surgeon can then insert the cannula. The cannula is connected to a mechanised system, giving it its "power-assisted" status. It then moves back and forth rapidly, breaking down the fatty tissue for simple suctioning out. The small incision and mechanised cannula ensure minimal trauma, consequently speeding up recovery after this liposuction surgery in Delhi.
Laser-Assisted Lipolysis (LAL)
As the name suggests, LAL involves releasing laser energy into the fat. This happens through a small tube and a minor incision, minimising the trauma incurred by the patient. The combination of laser energy and heat melts the fat, allowing your surgeon to suction it out.
Another minimally invasive method, LAL promises excellent contours and high precision. It remains one of the newest innovations in liposuction alongside UAL and PAL, providing superior results for every patient. It is important to note here that your liposuction surgery cost will depend on which technique you undergo.
However, as an expert surgeon will tell you, it is always better to know your options and make an educated decision. Additionally, you should note that the post-op recovery period is very comfortable given the combination of pre-op considerations and surgical innovations. The procedure is often a day-care procedure, which means the patient usually doesn't need to stay overnight  in the hospital before returning home.
Recovery After Liposuction Surgery in Delhi
Your surgeon will tie support bandages around the liposculpted areas, and you may see some swelling, bruising and numbness for a few days after the procedure — a combination of antibiotics, painkillers and a pressure garment helps with these conditions.
You will need to wear the pressure garment for one to three months after your dressing is removed. This contraption is fitted to your new contours and helps reduce swelling while keeping the liposuction area in shape.
With these considerations, liposuction's minimally invasive nature means you can resume your daily life and activities within two to four days. You will continue taking medication to prevent infections while avoiding exercise or weight-lifting for two to three weeks.
As long as you take the necessary post-op measures, you should have a completely safe and happy liposuction experience. The surgery aims to help you feel comfortable in your own body. Therefore, you should go into the procedure with realistic experiences to ensure you get the best out of it. After your procedure, you will be able to see your new contours immediately, with results only improving with time!
For the best liposuction surgery in Delhi, you need an expert like Dr Lokesh Handa. A leading specialist in every technique mentioned above, Dr Handa uses the latest equipment available at Med Esthetiks for holistic procedures that prioritise patient safety and promise natural-looking, gorgeous results!