Liposuction Surgery- Get Rid Of Excess Fat & Shape Your Body Nicely & Perfectly
Dr. Lokesh Handa
Are you planning for Liposuction Surgery?
Great, you're at the right place. This post gives an overview of all aspects of Liposuction surgery. So we recommend you read this post until the end without skipping a single line.
Most commonly regarded as an advanced medical procedure, Liposuction Surgery is the removal of excess fat from the body that you can't get rid of through exercise and dieting. The procedure most commonly uses a suction technique to break down and remove the excess fat from specific body areas- often known as body contouring.
This rise in demand for undergoing liposuction surgery attributes to people's need to beautify their bodies or look better. While a stigmatized topic in India, plastic surgery is still a very widely performed procedure and has more than a hundred thousand patients every year in India.
Facts About Liposuction
Liposuction is most commonly done in areas that pertain to zero weight loss despite a good amount of exercise and dieting; these areas are different for everyone, but the most common ones include the abdomen, flanks, arm, hips, and thighs, chin and neck, and chest in males, back and bra rolls in females. A few things to remember before you embark on the liposuction journey:
Liposuction will significantly enhance your body contours, but it is not an alternative to weight loss
It is regarded as a cosmetic surgery for the beautification of your body contour instead.
A healthy, consistent weight loss is best achieved through regular diet maintenance and exercise;
The surgery merely provides a medium for people to get off excess body fat in places they may not need
Liposuction does not remove any imbalances in your body's appearance, such as dimpling, cellulite, or stretch marks.
Post-liposuction surgery, the skin transforms according to the newly treated, contoured areas with smooth and elastic skin.
Liposuction is implemented in a breast reduction or treatment for gynecomastia, a condition caused by hormonal imbalance, leading to swelling in the male breast tissue. The results of liposuction surgery are permanent, given you adhere to your post-operative guidelines, a strict exercise regimen, and a healthy and natural diet so that your  weight remains static.
Types of Liposuction Surgery
The Liposuction procedure varies depending on the type of procedure the surgeon may have chosen. Before the procedure begins, lines and circles will be marked down on the areas of your body that will receive the treatment.
Tumescent Liposuction: The most common Liposuction treatment is Tumescent Liposuction. In this procedure, the surgeon injects a sterile solution and Lidocaine- a type of anesthetic to relieve pain, and epinephrine, causing the blood vessels to constrict. Small cuts are made into the skin, and a cannula is inserted, which will suction out the fat from your body.
Ultrasound-Assisted Liposuction: Another popular procedure is Ultrasound-Assisted Liposuction. Here, a device emitting ultrasonic energy will be inserted under the skin, which will assist in rupturing the fat cell membrane and breaking it down for ease of removal. Then liposuction is done, and the liquefied fat is taken out
Laser-assisted Liposuction: The surgeon breaks down fat layers using high-intensity lasers in this treatment. During the procedure, a laser fiber is inserted through a small opening, thus emulsifying fat.
Power-Assisted Liposuction: This process uses a cannula that moves rapidly in a back-and-forth motion, which allows the surgeon to draft more tough fat. So, this procedure is less traumatic to the skin.
Pre-Operative Precautions
Preoperative measures involve the preparative phase before surgery. It begins with routine  blood, radio- graph and ultrasound  investigations, to rule out any  abnormalities. Additionally, certain necessary preventive measures are to be followed to prevent any unprecedented complications during surgery.
To be a prospective candidate for Liposuction surgery, you must be healthy. Patients should be taking proper treatment for medical problems, and they should be under control, then the risks of liposuction reduce.
The common medical conditions include, but are not limited to,
Other precautions include
Administration of iron supplements for anaemic patients
Cessation of smoking and alcohol a few weeks before and after surgery
Discontinuation of anticoagulants and aspirin for a few weeks prior to surgery
Discontinuation of contraceptive pills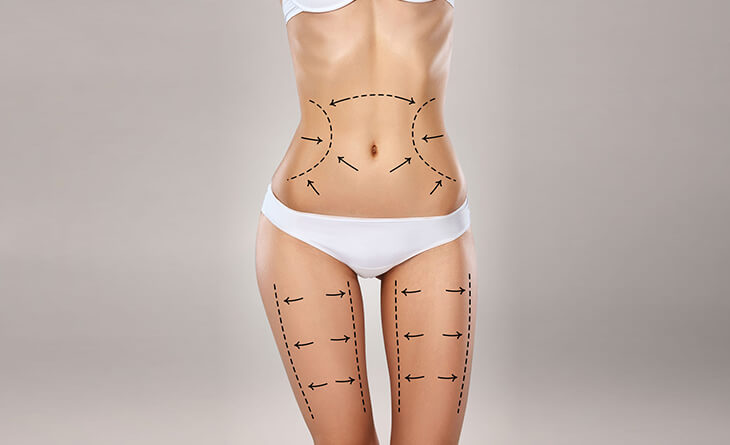 The Procedure of Liposuction Surgery
The procedure begins with the administration of anaesthesia. Minor incisions are given on the surgical site. A pencil-sized tube termed a cannula is then inserted through these incisions. The cannula is moved back and forth, which collapses the fat. The loosened fat is then suctioned with a suction apparatus attached to the cannula. This entire procedure to suction out the excess fat is approximately 30-45 minutes for each area. Surgeons may use ultrasound or laser liposuction for better contouring. Post the liposuction procedure, the incisions are closed or may be left open, as per the surgeon's discretion.
Duration of Liposuction
There's no standard time duration for a liposuction procedure because each person is different and requires an additional amount of fat to be removed. However, the average liposuction surgery takes 1 to 3 hours. It is to be noted that it is the time taken for the surgery. The preoperative and post-operative preparation may extend the duration of your hospital stay to another few hours. However, it is a daycare procedure. That means you can return home within a few hours of the surgery. Your board-certified plastic surgeon can give you a precise estimate of the operating time, taking into account all the factors that determine the duration of the surgery.
Postoperative Care and Recovery After Liposuction Surgery
It is necessary to strictly adhere to the post-operative guidelines of your surgeon for a smooth and rapid recovery. Like any surgery, you may encounter post-operative symptoms like swelling, numbness of skin around the incision, and pain.  However, they regress absolutely during the healing phase. Complete recovery is attained within a few days. Few post-operative cares include
You may require an overnight or 24-hour hospital stay
Analgesics and antibiotics to alleviate the pain and expedite healing
Compression garments to reduce inflammation and inhibit the mobility of the site that underwent the procedure.
Rest as advised by your surgeon
Mild exercises as prescribed by your surgeon.
These guidelines expedite the recovery.
Recovery in Liposuction
Liposuction surgery is a simple, safe, and straightforward day-care procedure. The initial recovery phase post-procedure is around a  week. The recovery is smooth and safe, provided you follow a non-negotiable and strict adherence to post-operative instructions. You can resume your routine activities like household and office work with the garment.
Any strenuous activities which exert pressure on the wound should be strictly avoided, like driving, workouts, and likewise. It may interrupt wound healing.
You can resume workouts 2-3 weeks post-surgery with your surgeon's consent. However, the complete recovery takes around 3-4 weeks so that you can get back to the lifestyle activities prior to the liposuction surgery.
Complications of Liposuction Surgery
Complications in Liposuction surgery may be encountered when an inexperienced surgeon performs the surgery without a well-equipped infrastructure. Therefore, choosing the best plastic surgeon and operating facility is essential to ensure the best outcome. The expertise of your surgeon, well innovative techniques clubbed with  ultramodern infrastructure ensure the utmost precision in every  phase of  your treatment and patient care.
Here are a few possible complications:
Delayed healing
Infection
Persistent Pain
Skin discoloration
Bumpy skin due to inaccurate fat elimination
Fluid accumulation which requires immediate drainage
Unaesthetic appearance
If you are interested in exploring the liposuction procedure, Reach out to Med Esthetiks. Dr. Lokesh Handa is a board-certified plastic surgeon with expertise and proficiency in every nuance of plastic surgery. If  liposuction surgery may be the right choice, our team is able to assist you in achieving desired results with natural aesthetics and utmost precision.