Liposuction Surgery- Get Rid Of Excess Fat & Shape Your Body Nicely & Perfectly
Dr. Lokesh Handa
Are you planning for Liposuction Surgery?
Great, you're at the right place. Here in this post, we'll be discussing all aspects of Liposuction surgery. So we recommend you to read this post till the end without skipping even a single line.
Most commonly regarded as an advanced medical procedure, Liposuction Surgery is the removal of excess fat from your otherwise healthy body that you can't get rid of through exercise and dieting; the system most commonly uses a suction technique to break down and remove the excess fat from the specific areas of the body- often known as body contouring. In 2015, liposuction was the most commonly performed procedure in the United States.
Delhi is not only known for its good food, great city life, and the hustle and bustle, but it is also one of the major hotspots for plastic surgery; At the same time, India ranks 4th as a hub for plastic surgery, Delhi is often regarded as the go-to place among Indians looking to modify their appearance through plastic surgery through safe, secure and trusted surgeons who are very skilled in their field.
In fact, in the last few years, cosmetic surgeries like Rhinoplasty, Liposuction, Abdominoplasty have seen a staggering increase of nearly 150% in the previous five years.
This increase comes with people's inner need to beautify their bodies or simply look better. While a stigmatized topic in India, plastic surgery is still a very widely performed procedure and has more than hundred thousand patients every year in India.
Things To Know About Liposuction
One thing to keep in mind is that liposuction surgery is not an alternative to weight loss; healthy, consistent weight loss is best achieved through regular diet maintenance and exercise; the surgery merely provides a medium for people to get off excess body fat in places they may not need it and can rather be regarded as a beautification process instead.
Liposuction is most commonly done in areas that pertain to zero weight loss despite a good amount of exercise and dieting; these areas are different for everyone, but the most common ones include the abdomen, flanks, arm, hips and thighs, chin and neck, and chest in males, back and bra rolls in females.
Liposuction can also be used as a breast reduction or treatment for gynecomastia, a condition caused by hormonal imbalance, leading to swelling in the male breast tissue.
The results of liposuction surgery are permanent, given that you adhere to your exercise outline and your weight remains static.
Post-liposuction surgery, the skin transforms according to the newly treated, contoured areas; smooth and elastic skin will show similar results in the treated area.
Keep in mind that while liposuction will significantly alter your body contours, it will not remove any imbalances in your body's appearance, such as dimpling, cellulite, or stretch marks.
Precautions Which We Recommend
To be a prospective candidate for Liposuction surgery, its imperative that you should be a healthy individual. But that doesn't mean that a patient with underlying medical problem can't have liposuction.
The common medical conditions include, but are not limited to:
Hypertension
Coronary Artery Disease (blockade in Heart vessels)
Diabetes
the patient should be taking proper treatment for the medical problems and they should be under control, then the risks of liposuction reduce.
Complications can occur with liposuction. Since it is no different from other major surgeries, liposuction also carries some major and minor risks, which should be handled with the utmost care and professionalism. Some prospective complications related to liposuction are as follows:
Contour irregularities may occur with the skin appearing bumpy, wavy, withered, or textured due to uneven fat removal. This usually happens if the skin is excessive and the elasticity of the skin is not good. With a skilled surgeon, the chances of this thing happening is rare.
Pockets of fluids, known as Seroma, may form under the skin and need to be drained using a needle.
Temporary numbness or nerve irritation in affected areas is also common, but it improves with time.
Accumulation of blood inside the skin, which need to be drained.
Lidocaine toxicity, while rare, cannot be ruled out; it occurs in cases when the administered anaesthesia, Lidocaine, can have severe implications for heart and nervous system.
It would be best if you went to a trained, well-versed surgeon for this procedure. While simple in theory, liposuction surgery requires excellent training and a skilled surgeon to perform and is a surgery that has its own risks. These risks are subject to increase if there is a larger surface to work on.
Before any major surgery, you are required to take special care of your body; since it is a highly tiring process, it is essential for your body to be at its healthiest before the surgery.
Generally, it is advised you do not undergo any surgery if you're sick.
You should have full knowledge of your medical history, including any past illnesses that may put you at risk during the surgery, any allergies, and any medications or supplements you may be taking, and you must know that you will be asked to stop taking specific medication at least two weeks before the surgery; these medications will mainly include blood thinners. You will also require certain lab tests and are advised not to consume any alcohol 48 hours before your surgery, along with any narcotics that may cause your blood to thin.
Your stay and location of the surgery depend greatly on the amount of fat you will be getting removed; if the surgery is relatively small, about only a small section of fat, the surgery will most probably take place in an office setting and be over in a couple of hours.
You will be allowed to go home as soon as the anaesthesia wears off and the doctor has confirmed that there are no risks to go home.
If you have a larger area suctioned, the surgery will take place in a hospital setting. In this case, you are advised to have someone with you to drive you to and from the hospital, and a bag with some essential supplies, including a change of clothes. You will also be required to stay on-site at the hospital at least overnight.
In both cases, you are advised to have someone accompanying you.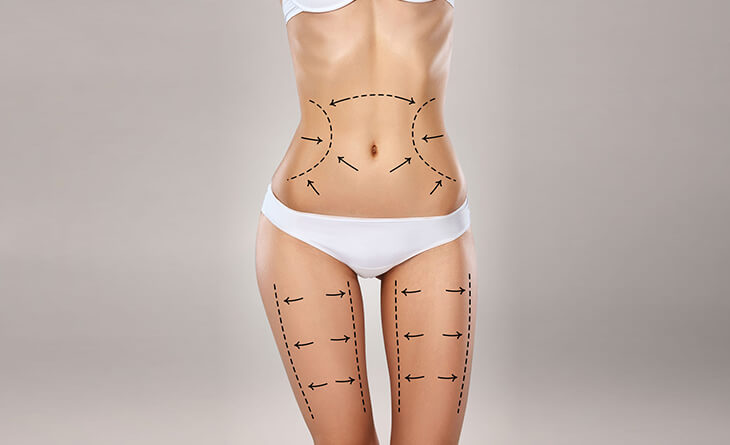 Types of Surgery
The Liposuction procedure varies depending on the type of procedure the surgeon may have chosen. Before the procedure begins, lines and circles will be marked down on the areas of your body that will receive the treatment.
Tumescent Liposuction: The most common Liposuction treatment is Tumescent Liposuction; in this procedure, the surgeon injects a sterile solution and Lidocaine- a type of anaesthetic to relieve pain, and epinephrine, causing the blood vessels to constrict. Small cuts are made into the skin, and a cannula is inserted, which will suction out the fat from your body.
Ultrasound-Assisted Liposuction: Another popular procedure is Ultrasound-Assisted Liposuction. Here, a metal rod emitting ultrasonic energy will be inserted under the skin, which will assist in rupturing the fat cell membrane and break it down for ease in removal. Then liposuction is done and the liquefied fat is taken out
Laser-assisted Liposuction: In this treatment, the surgeonbreaks down fat layers using high-intensity lasers. During the procedure, a laser fiber is inserted through a small opening, thus emulsifying fat.
Power-Assisted Liposuction: This process uses a cannula that moves rapidly in a back and forth motion, which allows the surgeon to draft more tough fat. So, this procedure is less traumatic to the skin.
Post-Surgery
The procedure may take up to several hours, depending upon the amount of fat that needs removal.
Post-surgery, there are symptoms you should be on the lookout for and some symptoms that will fade with time. Swelling will normally decrease in a couple of weeks and should be gone sooner or later, and the treated area will begin to look more normal. You will be required to wear tight compression garments to help reduce swelling.
After the procedure, you might be requested to stay on-site at the hospital overnight or for a day for observation.
You will have to wait for a few days before resuming any normal routine activities and a couple of weeks before you can resume your normal exercises; it is important to keep exercising (when advised by the surgeon)after liposuction is done to maintain the body.
While highly effective, no surgery has results that last a lifetime. It is only with regular maintenance of the body that the results of liposuction will pertain. It is normal for the body to lose elasticity over time, but the areas with work done will look better maintained than those that didn't.