What is Liposuction Surgery?
Liposuction Surgery in Delhi, is a collective term for a series of surgeries to remove excess fat from the body. The fat, resistant to diet and exercise, is eliminated through liposuction surgery. Medically it is termed Lipectomy, Liposculpture, Lipoplasty, and more. It targets any stubborn fat deposits in your body. The most common sites for liposuction are the abdomen, hips, thighs, waist, chin, breasts, buttocks, and upper arms.
Liposuction surgery is primarily a cosmetic surgery performed to contour the shape and outline of your body.
However, it is also incorporated with other treatment modalities for health disorders like lymphedema, lipodystrophy syndrome, obesity, lipomas, etc. Liposuction can be combined with other cosmetic surgeries like breast reduction surgery, tummy tucks, gynecomastia, etc.
Advantages of Liposuction Surgery
Liposuction involves the liquefaction of fat through various techniques. The emulsified fat is suctioned out of the body. It benefits you in:
The ideal candidate for liposuction surgery
Anyone bothered with excess body fat may undergo Liposuction surgery. Nonetheless, you should have optimum body weight. It is ideally recommended for those who encounter the following issues.
Types of Liposuction Method
Different methods are implemented for liposuction surgery. The technique chosen relies on both the plastic surgeon and your requirements. Here are the standard methods:
Suction-Assisted  Liposuction (SAL)
Suction AssistedLiposuction is one of the most prominent procedures. It involves making 2-3 very small holes on the skin, then infiltrating the tumescent solution that liquefies fat. A cannula fixed to a suction apparatus or a syringe is inserted. It helps to suction out the liquefied fat.
Ultrasound-Assisted Liposuction Surgery (UAL)
UAL is an advanced procedure. It begins with the administration of general anesthesia followed by a  small incision on the surgical site. Then a tool that emits ultrasonic waves is inserted through the incision. It collapses and melts dense fat deposits. Then the liquefied fat is suctioned out.
Laser-Assisted Liposuction Surgery
This technique implements a  laser fibre to emulsify the fat. Once you are aneasthetised, incisions are given. Your surgeon melts the fat accumulations with a high-intensity laser device followed by suctioning of liquefied fat out of the body.
Power-Assisted Liposuction
It is a minimally invasive approach to breaking down the fat deposits with a power-driven cannula. The to and fro movements of the cannula emulsifies the fat, which is later removed from the body.
The Procedure for the Liposuction Surgery
Liposuction is a minimally invasive straightforward surgery performed under  anaesthesia. The duration of the surgery varies according to the site and the amount of fat to be eliminated. A board-certified plastic surgeon evaluates the preoperative procedures and postoperative factors precisely to avert any complications for a smooth recovery.
Preoperative Measures for Liposuction Surgery
Preoperative measures involve the preparative phase before surgery. It begins with routine blood check, radio graphs, and ultrasound investigations to rule out abnormalities. Additionally, specific necessary preventive measures to prevent unusual complications during surgery are to be followed.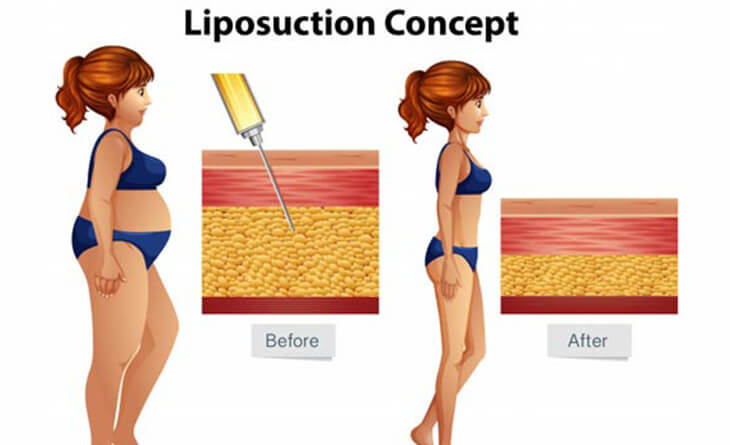 The Liposuction Surgery
The procedure begins with the administration of anaesthesia. The technique implemented for liposuction is based on your requirements and the surgeon. The  sequences of surgery include:
Postoperative Care and Recovery After Liposuction Surgery
A non-negotiable and strict adherence to the post-operative guidelines of your surgeon is essential for a smooth and safe recovery.  Like any surgery, you may experience post-operative changes like swelling, pain, and uneasiness around the operated site.  However, they are normal and regress during the recovery phase. Few post-operative cares include:
Complications of Liposuction Surgery
Complications in Liposuction surgery may be encountered when an inexperienced surgeon performs the surgery without a well-equipped infrastructure. Therefore, it is essential to choose the best plastic surgeon and operating facility to ensure the best outcome. The expertise of your surgeon, and innovative techniques clubbed with ultramodern infrastructure ensure utmost precision in every phase of your treatment and patient care.
Here are a few possible complications:
Liposuction is a permanent cure for the elimination of fat. Unlike diet and exercise, it is a reliable, secure procedure for immediate results. However, these results can be maintained only if you adopt a lifestyle modification. It involves a healthy and well-balanced nutritious diet clubbed with routine workouts.
If you are looking forward to enhancing your body contour?
Med Esthetiks is the right place for you. Dr. Lokesh Handa is an eminent board-certified plastic surgeon specialising in liposuction surgery. His proficiency and expertise in every nuance of liposuction surgery are reflected in the surgery results.  Dr. Handa's calibre backed with innovative techniques and sophisticated infrastructure, ensures accuracy with natural aesthetics.