What is Gynecomastia Surgery?
Over the last decade, the number of men opting for gynaecomastia surgery has been on the rise – hinting at both the success ratio of this minimally invasive surgical management for male breasts as well as the financial feasibility of an operation that helps lessen the embarrassment in the affected men.
More and more men are looking to surgically improve the look of their chests by availing this surgery that helps them to get rid of the enlarged male breast glandwhich happens because of thevarious reasons. It is a quiet prevalent condition with asymptomatic gynaecomastia being seen in 50-60% of adolescents during puberty while the number reaches up to 70% in the 50-69 age bracket.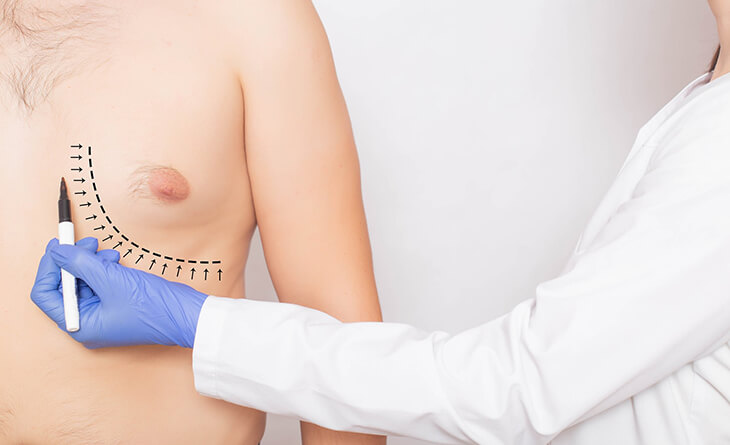 Detection
Gynaecomastia usually occurs on both sides of the male chest – giving the appearance of enlarged and often hanging breast tissue. To put it simply – a mound like tissue under and around the nipple that is palpable, tender, firm, and mobile. Self-exams can help you detect the condition in either one or both the breasts.
If the mound be hard, fixed, unilateral with nipple discharge and/or skin changes – one should suspect breast cancer and consult a doctor immediately.
Surgical Techniques Used
The two techniques in use include:
Often, a combination of Liposuction & Excision is used at times as per surgeon's suggestion.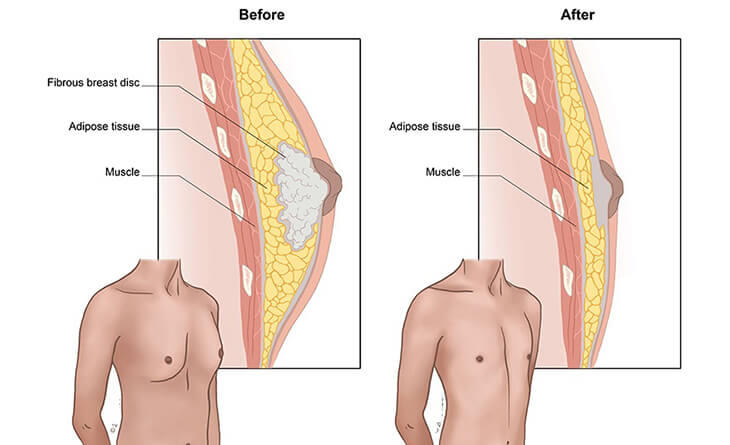 Preparation
Operation is decided upon only after a thorough physical examination of the patient in order to confirm gynaecomastia and grade it according to the size and skin excess.
Before surgery, some blood tests are advised and fitness for anaesthesia is checked.
As per doctor's suggestion, either an intravenous sedation or general anaesthesia is used to perform the surgery. In some cases, local anaesthesia can also be used.
Post-Surgery Care
The operated area is bandaged and compressed with compression garment immediately after the procedure. This is done to minimise swelling as also to provide support to the new chest contour achieved. The compression vest also facilitates skin retraction.
A surgical drain may be placed during the operation that will allow for fluid and excess blood removal in gentle manner causing least inconvenience to patient.
To minimise recovery time, it is advisable to:
Taking 2-3 days off before returning to work or daily activities
Exercises such as cardio or lower body activities ought to be resumed after first 2 weeks
Recovery
With a gentle recovery period across most age groups, gynaecomastia is a very safe procedure where recovery period is usually 3-5 days with soreness and mild pain.
If one is to follow post-surgical instructions carefully, returning back to your office desk is just a matter of few days only.
Conclusion
A perfectly safe procedure with high success ratio, gynaecomastia surgery allows you to achieve a contoured chest profile immediately after procedure. As the post-surgical swelling subsides – the better your final physique appears to be.
Maintaining a stable weight is imminent to hold on to the results. Steroids or other high-performance drugs will negate the positive results and also prevent the scar lines from fading away gradually.