Hair Transplant with Less Donor Area
Dr. Lokesh Handa
Hair transplantation might be the best solution for people who have lost hair. Many men who experience hair loss are frustrated with thoughts of helplessness. Hair transplant in Delhi is a boom in cosmetic surgery. Hair transplantation is a surgical approach where a plastic surgeon transfers hair follicles from the dense area and transplants them to a bald site of the head. Mostly, hair is moved from your back or sides of the scalp.
Hair transplantation is the treatment of choice against hair loss. Based on hair loss, hair restoration has many options. It imparts a permanent cure if performed on a healthy scalp. However, the success of any hair transplant donor site is vital. It is the site from where the hair follicles are extracted. They are finally implanted in the hairless site.
Importance of Donor Area in Hair transplant
Results of a hair transplant depend largely on the donor area. The donor site can be the back of your head or beard, or chest hair. These can be combined to achieve satisfactory results even if you have a weak donor area. However, the ideal donor area is on both ear sides and behind the scalp. Permanent hair-bearing sites or donors site is resistant to dihydrotestosterone(DHT ). It Is a hormone that triggers hair fall. DHT is attributed to male baldness. Permanent hair growth remains unaffected in these areas because these hairs are mostly immune to DHT androgen. Moreover, the donor area's texture, colour, and healthy hair follicles play an important role in determining the outcome after transplantation.
How to overcome the issues with weak donor areas for hair transplants?
Your hair transplant surgeon examines the scalp hair both in the back and sides of your head. The hair present in this area is resistant to hair loss. The next preferred choice is the beard because the hair is naturally thick and resistant to DHT. Stomach and chest hair can also be used as a hair donor. Although thin, they are usually thick enough to look like scalp hair. A hair transplant surgeons may combine donor hairs from multiple sites. However, artistic skill ensures the precise outcome of hair transplantation. Che st hair is also  used to increase the number of grafts intensely in bald cases. Hairs from legs and hands are also taken. However ,it is the last resort since  the  hair may be so thin that it is rarely seen on the scalp when used., Moreover, their growth cycle may be longer comparatively and unpredictable.
How does Weak Donor Area Affect Hair Transplant?
Hair transplantation is not effective for everyone, and not everyone has an ideal donor site. A hair transplant may be done only if you are naturally bald, have hair fall, and thinning, or are due to injury. Those individuals who suffer from  Diffuse unpatterned alopecia (DUPA )or diffuse alopecia tend to have unhealthy hair. Therefore, they are not suitable candidates for successful hair transplants. Deceased donors are also unfit for transplant. Otherwise, like healthy hair, the transplanted hair may thin out over time. Other cases of weak  donor include:
Cases of Cicatricial Alopecia
People with thin hair are also not suitable candidates.
Below  25 to 27 years of age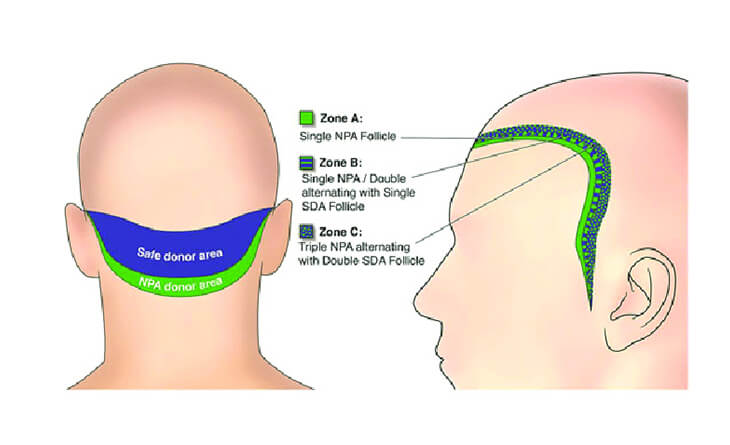 Role of Hair Transplant Surgeon in Overcoming the challenges of  Weak Donor Area
Hair transplantation may be considered successful and long-lasting when you choose a board-certified surgeon. You should choose a doctor who understands hair loss and regularly does a hair transplant.
They should be well equipped and skilled for the procedure. The credentials of your hair transplant surgeon are vital.  The surgeon should be well experienced and have expertise in every aspect of the hair transplant. Experience is crucial as all surgeons are not hair transplant experts.
Hair transplanting varies as per your age, gender, and profile. Your surgeon's aesthetic skill in grafting hair accordingly is vital. It contributes to the success of the entire procedure. Creating an accurate hairline design implant for hair implants demands exceptional calibre. This can be gained only by a well-experienced hair transplant surgeon.
Are Hair transplants with weak  Donor Area Successful?
Hair transplantation despite a weak donor area can be permanent and successful if performed by an expert hair transplant surgeon especially for androgenetic alopecia or with male pattern baldness. Most individuals get the results in 6 to 9 months after post-transplantation surgery. Some may take 12 months. It is necessary to note that transplanted hair may fall in 2 to 6 weeks post-surgery. This is completely a normal phenomenon. It paves the way for thick, lush hair growth.
In terms of patient contentment, success varies widely from doctor to doctor. This is influenced by the doctor's skills and expertise and available technologies. Doctors with a good reputation have a success rate of about 100%. It is best accomplished when doctors and patients work together to design plans and tactics for hair recovery that are tailored to each patient's requirements.
The Types of Hair Transplant
The predominant hair transplant methods include follicular unit extraction (FUE) and follicular unit transplantation (FUT).
Follicular Unit Extraction (FUE) 
This is a mode of hair transplant that involves harvesting individual hair follicles from the donor to the implant site. Surgeons use micro-punches to extract single follicles without visible signs of extraction. Innovations of the FUE technique include the manual dull punch method, powered tools with oscillatory punches, and a vacuum apparatus, enabling minimal-invasive extraction.
Advantages of FUE include:
Greater number of grafts
Less scarring
Donor site hair density is not an inhibiting factor
Minimal postoperative pain after your hair transplant
Rapid healing
The plastic surgeon can target follicles of a specific size with their diameter and pigmentation
Follicular unit extraction is done in four to six hour sessions
The surgeon can include hairs beyond the typical donor site, that is, the parietal scalp, beard, chest, pubis
Follicular Unit Transplant (FUT)
It is a hair transplant procedure. In this method, your surgeon surgically incises a strip of skin from the rear or the side of the head and dissects individual hair follicles from the strip. They are later inserted into the hairless scalp. The method is most preferred for advanced grade hair loss treatment. FUT offers the following advantages
Shorter operative time
Minimal transaction of follicles
No need to trim the entire donor area
Procedure in Implanting the Hair Follicles
Hair transplant is the surgical procedure of transplanting hair from a hairy area to a bald site on your scalp. It is a daycare procedure. That is you don't require a hospital stay and return back home within a few hours of the procedure. It is performed under local anesthesia. Your hair transplant surgeon administers a  mild anesthetic to ensure a painless procedure.
Hair transplant is done by the extraction of hair follicles from the donor site. The recipient sites for the hair transplants are created randomly and irregularly. Then these hair follicles or grafts are implanted to the hairless or recipient site gently. A topical antibiotic applicant and a non-adhesive bandage are applied across the donor and recipient sites  These follicles then regrow hair on the part of the scalp affected by hair loss in a completely natural process.
The Timeline for Hair Transplant  with a weak Donor Site
Post hair transplant,  your hair follicles take a natural resting phase. In this stage, some tiny hairs may shed within 2-4 weeks post the transplant.  You may find no new hair growth for 2- 3 months. This is completely a normal phenomenon. It paves way for a better and stronger dense outgrowth.
Then new follicles erupt to grow new hairs towards the third to fourth month. Within a few days you may find, that around thirty percent of transplanted hairs erupted.  40%  to 50%  of hair may have erupted by 6-7 months. By the  ninth to tenth month, around 90% of the hair may be visible through the scalp.
The complete outgrowth may be evident by the 12th month. However, it may escalate for up to a few more months.  It may vary from person to person. This means the complete growth and appearance of a transplant is not complete for a year. It may extend further, maybe a year and a half.
The Final Results from Hair Transplant
The initial phase of rest in hair transplant lasts for 3-6 months. This is followed by new hair growth. Most hair transplant cases may experience a dense growth between around 5-12 months post-procedure.
However, some may surprisingly experience early and impressive growth. Most patients get the results in 6 to 9 months after post-transplantation surgery.  Others may take 12 months for a dense, thick outgrowth of hair.
Remember the growth stage may differ. Have patience, it pays and it is the final result that matters. Rest is just part of your journey to a new, youthful appearance.
Recovery After Hair Transplant
Your scalp usually becomes sore, swollen and painful after your procedure. This regresses entirely during the healing phase, with the help of antibiotics and analgesics that expedite the healing.
Most people can resume their routine activities within a few days after surgery. It is common for the transplanted hair to shed three to four weeks after the transplant. This paves the way for new hair growth. Most people have experienced complete hair growth in eight to twelve months.
Do I get results with a weak donor area?
The answer is yes. You can achieve a good density of hair, provided an expert hair transplant surgeon performs it. Despite a weak donor, too, you can go ahead with the hair transplant. Your hair transplant surgeon may use the donor from other body parts.
When it comes to hair transplantation with a weak donor area, it is vital to choose a  board-certified surgeon who is specialised in hair transplantation. Ultimately, your treatment and post-operative care are primarily reliant on a surgeon who has vast exposure to the procedure. Dr. Lokesh Handa at Med Esthetiks has extensive training and experience in hair transplant . Dr. Handa, backed with advanced techniques and infrastructure, ensures safe and exceptional results with natural aesthetics.