Which Hair Transplant is Best FUE or DHI?
Dr. Lokesh Handa
A hair transplant is a cosmetic surgical procedure.  It transplants hair from any part of your body to a bald area in your scalp. Usually, the hair is extracted from the rear or sides of the scalp to the bald site. Hair transplants are permanent and effective methods for reviving hair growth in the best hair transplant clinic in Delhi.
The principal causes for hair loss are genetic factors, nutritional deficiency or imbalance, stress, hormonal imbalance, adverse effects of medications, and health disorders. Hair transplantation is the tool to restore a natural and youthful appearance to those with hair loss.
Types of Hair Transplant Technique
Before moving to the techniques, we need to acquaint ourselves with two vital terms in hair transplantation, "the donor site" and the" recipient site". Hair transplant is the removal of hair from one side of your body where it is abundant, termed the donor site. Transplanting it to the hairless or bald spot is known as the recipient site.
Different types of hair transplant techniques are designed to aid regrow the lost hair. The most predominant ones are:
Follicular Unit Transplantation (FUT): During FUT, in the best hair transplant clinic in Delhi, your surgeon incises a strip of hair from the haired spot of your scalp and exfoliates individual hair follicles
Follicular Unit Extraction (FUE): In the FUE technique, the follicles are directly extracted from your scalp.  The surgeon manually incises channels in your scalp before implanting hair follicles.
Direct Hair Implantation (DHI) is a modification of the FUE. In Direct Hair Implantation Technique (DHI), an innovative pen-shaped device is implemented for implantation.
Here we shall examine both Direct Hair Implantation (DHI) and Follicular Unit Extraction (FUE). We will analyse the indications, differences to assess the best for you.
Follicular Unit Extraction
FUE hair transplant technique has gained popularity in the recent past. Contrary to the classic technique of FUT, which excises a strip of skin, FUE implements direct extraction of the hair follicles or the grafts. As a result, FUE ensures insignificant scarring with a natural aesthetic at the best hair transplant clinic in Delhi.
How follicular unit extraction (FUE) works?
Preparing the harvest site is the initial phase in hair transplant surgery, irrespective of the method.
You are maintained in a prone position
The donor site is trimmed to almost a millimetre to view the follicular angle
Anaesthesia is administered
The follicular unit is separated and pulled out with forceps
FUE hair transplant method resorts to manual extraction of a tuft of 1–4 hair follicles, known as grafts, simultaneously. They are transferred to a holding medium or a storage solution. Once the extraction phase is complete, your plastic surgeon opens the canals with a microblade. These are the slits to where the grafts are implanted. Once the canals are created, the surgeon transfers the grafts from the holding medium. The graft is then inserted into the recipient site gently. A topical antibiotic applicant and a non-adhesive bandage are applied across the donor and recipient sites.
Following FUE surgery, you may notice the initial results two months post-surgery.  Significant growth is visible in six months, with complete outcome in 9-12 months post-procedure when done in the best hair transplant clinic in Delhi.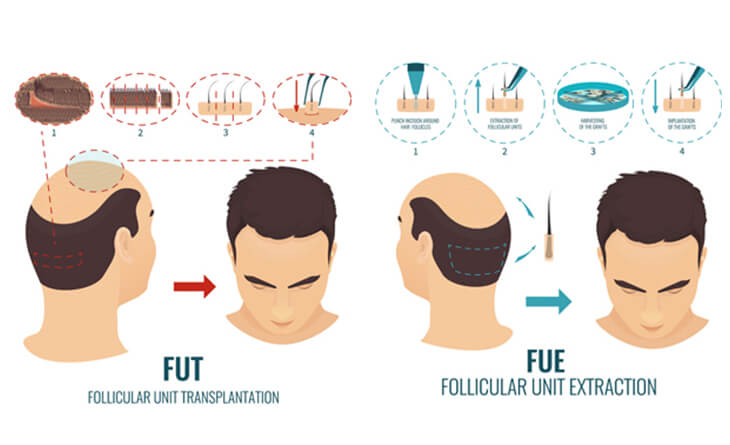 What is DHI, and how does it differ from FUE?
DHI is an enhanced version of the FUE hair transplant technique and follows a similar procedure.
The primary difference between DHI and FUE is in the pattern of graft implantation into the recipient spot. During an FUE procedure, the canals were created before implantation.  Then your surgeon manually implants the uprooted grafts. DHI technique implements an innovative tool termed as an Implanter Pen. This permits the implantation phase almost simultaneously or right after extraction. It does not require the creation of canals for the grafts. FUE or DHI does not exhibit any difference. Both have an excellent success rate.
Recovery and Results from DHI
Your scalp may appear sore, swollen and painful post hair transplant procedure. This regresses during the healing phase with the help of antibiotics and analgesics that expedite the healing.
Mostly you can resume your routine activities within a few days after surgery. It is a normal phenomenon for the transplanted hair to shed off three to four weeks after the transplant. This paves the way for new hair eruption. Most people have attained entire hair growth in eight to twelve months at the best hair transplant clinic in Delhi.
Hair transplant procedures are usually safe and hardly cause complications. Especially when performed by a qualified and expert in hair transplant surgery. DHI and FUE are less invasive than FUT. They don't require any incision of a large strip of skin.
FUE and DHI techniques are usually scarless. However, they may be tiny scars from the removal of hair follicles. These are less noticeable due to the outgrowth of hair and are well camouflaged.
Which is the best hair transplant technique among DHI and FUE?
Prospective patients are apprehensive about the best technique between FUE or DHI in the best clinic in Delhi. Any technique which meets your requirements is the best. Both the procedures assure the best outcome with natural aesthetics.  However, precise patient assessment and implementation of a comprehensive treatment plan are essential. It can ensure a safer, accurate, and everlasting result. However, this is determined both by you and your plastic surgeon. Nonetheless, DHI is mainly suggested in:
Patients below 35 years of age.
Individuals where hair loss may not be advanced
It is a good option for those who want to lower their hairlines and fill up their temples
Still confused with Direct Hair Implantation (DHI) Vs Follicular Unit Extraction (FUE)?
Dr Lokesh Handa is the right one to approach. He is an eminent plastic surgeon in the best hair transplant clinic in Delhi. His techniques inolve performing hair transplants less invasively with utmost precision. With years of expertise and excellence in hair transplant procedures, Dr Handa assures the best treatment and patient care.