Everything You Need to Know About Hair Transplants
Dr. Lokesh Handa
Are you noticing hair in the comb, shower and pillow? Have you tried a lot of remedies but failed? In this scenario, a hair transplant in Delhi can be your best solution.
Shedding 50 to 100 hair stands in a day is normal, but if the number exceeds, that is something to be concerned about. Several factors like our lifestyle, genetics, hormonal changes, and much more are responsible for hair loss and thinning. Thankfully, the latest techniques, like hair transplants, can help to get the desired hair volume.
Keep reading the blog to know what the hair transplant procedure is and the different techniques of hair transplantation.
What is Hair Transplant?
A hair transplant is a surgical procedure that involves extracting the hair follicles from the donor area with full, healthy growth and transplanting them into the balding area. A hair transplant procedure treats hair loss caused by androgenic alopecia or male and female pattern baldness. The transplanted hair will continue to grow in the new area and should look and feel natural.
Different Techniques of Hair Transplant
Most commonly, two types of hair transplant techniques are used:
FUE (Follicular unit extraction)
FUT (Follicular unit transplantation)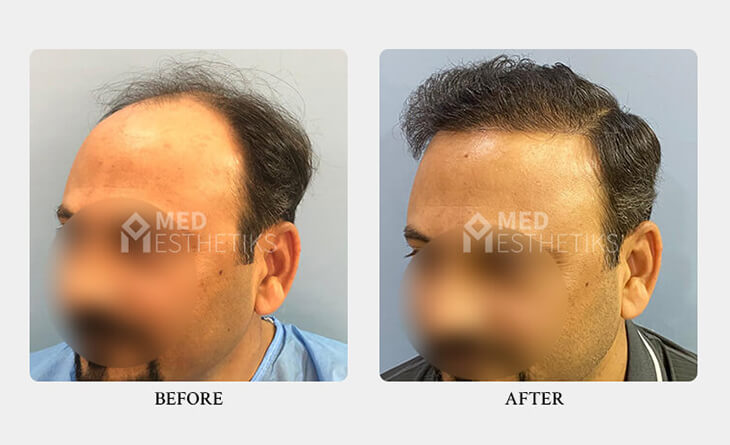 Follicular Unit Extraction
Follicular unit extraction (FUE) is a hair transplant procedure used to restore hair growth on the scalp. During this procedure, follicular units (a cluster of 1-4 hairs) are extracted from a donor area, usually the back of the head, and transplanted to the recipient area or balding area. Unlike the traditional strip method, FUE does not require the removal of a strip of scalp from the donor area. Instead, the follicular units are harvested individually using a specialised tool. FUE is a minimally invasive procedure and can be done in a single session. The results of this procedure are natural-looking and long-lasting.
Follicular Unit Transplantation
Follicular unit transplantation (FUT) is a hair transplant technique in which individual follicular units (groups of 1-4 hairs) are extracted from the donor area and transplanted to the recipient area. In hair transplant in Delhi, the donor area is typically the back and sides of the head, and the recipient area is usually the front and top of the head. FUT is a minimally invasive procedure that can restore hair to balding or thinning areas of the scalp. A strip of skin containing the hairs is surgically removed from the donor area during the procedure. The individual follicular units are then separated and transplanted to the recipient area.
FUT is considered a more advanced and precise technique than other methods of hair transplantation, as it allows for a more natural-looking result.
Ideal Candidate for Hair Transplant Procedure
The ideal candidate for a hair transplant procedure is someone with healthy hair growth, no medical conditions that could inhibit hair growth, and realistic expectations for the procedure's outcome. The following are the factors that determine the candidacy for a hair transplant procedure:
Degree of hair loss: Hair transplants are typically most effective for people with mild to moderate hair loss. Those with advanced hair loss or very thin hair may not be good candidates for a hair transplant.
Hair types: Hair transplants are most successful in people with thick, healthy hair. Those with thin, brittle, or damaged hair may not achieve the desired results.
Health: People with certain medical conditions, such as uncontrolled diabetes or autoimmune disorders, may not be good candidates for a hair transplant in Delhi. It is important to discuss your medical history with your doctor before considering a hair transplant.
Risks Associated with Hair Transplant
Hair transplant surgery is considered safe but carries some risks like any other surgical procedure. Some of the potential risks associated with hair transplant surgery include the following:
Infection: There is a small risk of infection at the donor and recipient sites.
Scarring: Scarring can occur at the donor site, particularly if a strip excision technique is used. Scarring can also occur at the recipient site if the grafts are placed too deeply.
Numbness: There may be scarring at the donor site, particularly if the FUT (follicular unit transplantation) procedure is used. FUE (follicular unit extraction) procedures generally have less scarring.
Inflammation: Hair transplant procedure can also cause inflammation of the hair follicles.
Unsatisfactory results: Hair that does not resemble the surrounding hair or is notably thinner.
However, consulting a board-certified surgeon can help to eliminate these side effects. Discuss the potential risks of hair transplant surgery with your doctor before deciding to undergo the procedure.
Hair Transplant Downtime
The downtime associated with hair transplant in Delhi can vary depending on the extent of the procedure and the individual patient's recovery process. Most people can generally return to their normal activities within a few days of the procedure.
After the surgery, the transplanted hair will fall out within a few weeks, and this is a normal part of the hair growth cycle and is not a sign of failure. The hair will begin to grow back within a few months and continue to grow and thicken over time.
It is important to follow the post-operative instructions provided by your surgeon to ensure a smooth recovery. These hair transplant procedure instructions may include taking prescribed medications, avoiding strenuous activity, and protecting the scalp from sun exposure.
It is also important to avoid styling products or heat treatments for the first few weeks after the surgery, as these can damage the transplanted hair. Most people can style their hair as normally would within a few months of the procedure.
Book your Consultation!
Hair transplant can provide a permanent solution to hair loss, as the transplanted hair follicles are genetically resistant to balding. The procedure is generally safe and has few risks. However, choosing an experienced and qualified surgeon who can perform the procedure correctly and safely is important. Hair transplantation results vary from person to person, so it is important to discuss all expectations with the surgeon before the procedure.
If you are experiencing a hair loss problem and looking for a permanent solution, book your consultation with Dr Lokesh Handa at Med Esthetiks.