Does Hair Transplant Surgery Leave A Scar?
Dr. Lokesh Handa
Hair loss can be a frustrating and challenging issue to deal with, impacting one's self-confidence, social life, and overall well-being. While several hair loss treatments are available, hair transplant surgery has gained immense popularity recently. However, one of the most common concerns among individuals considering hair transplant in Delhi is whether the procedure leaves a scar.
The truth is that all surgical procedures, including hair transplants, will leave some degree of scarring. However, the extent and visibility of the scar will depend on several factors, such as the type of procedure performed, the surgeon's skill, and the patient's healing process.
Follicular unit Transplantation (FUT)
Follicular Unit Transplantation (FUT) involves removing a strip of scalp from the donor area and dividing it into individual hair follicles for transplantation. This method leaves a linear scar along the donor area, typically covered by surrounding hair. The size of the scar depends on the width of the strip of the scalp removed.
Follicular Unit Extraxtion (FUE)
Follicular Unit Extraction (FUE) hair transplant procedure involves removing individual hair follicles directly from the donor area using a small punch tool. This method does not leave a linear scar but rather tiny circular scars scattered throughout the donor area. The scars from FUE are typically less noticeable than those from FUT, but they can still be visible if the hair is cut very short.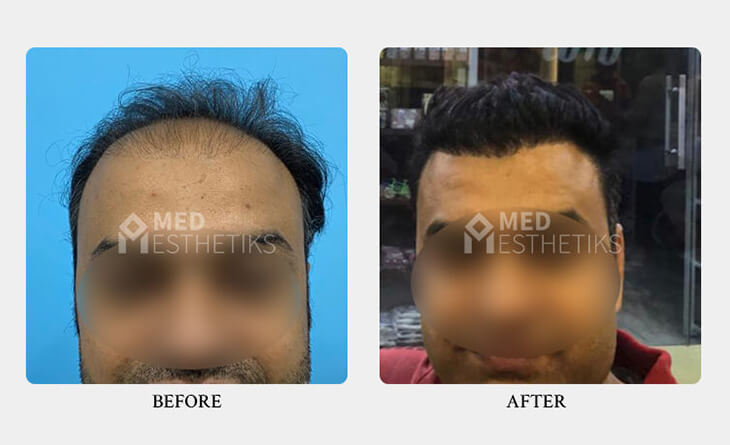 Factors Affecting Scars Visibility
Several factors affect the size and visibility of the scar after hair transplant surgery, including:
1- Techniques Used
As mentioned earlier, the technique affects the scar's size and visibility. FUE causes tiny circular scars, while FUT leaves a linear scar. The surgeon can minimise the size and visibility of the scar by performing the procedure carefully.
2- Skills of Surgeon
The surgeon's skill in performing the hair transplant can affect the appearance of scars. A board-certified plastic surgeon will use advanced techniques to minimise scarring and ensure the incisions are closed neatly.
3- Healing Process
The body's natural healing process can cause scars to become raised or more visible. Patients should follow the post-operative instructions provided by their surgeon to promote proper healing and minimise scarring.
4- Scalp's Characteristic
Individual characteristics of the patient's scalp, such as skin thickness and hair density, can also affect the visibility of scars. Patients with thicker hair may find it easier to conceal scars than those with thin hair.
How to Reduce Scar Visibility
You can take steps to promote healing and reduce the visibility of scars after a hair transplant in Delhi. Avoiding direct sun exposure, using scar-reducing creams or silicone sheets, and following the surgeon's aftercare instructions carefully can help to reduce scar visibility. In some cases, additional surgical procedures such as scar revision surgery or scalp micro-pigmentation may be recommended to reduce the visibility of the scar.
Looking for Hair Transplant Procedure!
Hair transplant surgery can leave a scar, but its size and visibility depend on several factors, such as the type of procedure, the surgeon's skill, and the patient's scalp characteristics. However, with the right technique and post-operative care, scars can be minimised and eventually fade over time.
If you're considering a hair transplant in Delhi and have concerns about scarring, book your consultation with Dr Lokesh Handa. He is a renowned hair transplant surgeon with years of experience and expertise in providing natural-looking results with minimal scarring.