Are Hair Transplants Successful?
Dr. Lokesh Handa
Many people don't consider taking care of their looks daily until it starts looking dull. Just as we do with our mental and physical health. Hair loss and baldness are prominent issues people face these days. A hair transplant can help restore what appears to be a complete or at least fuller head of hair for many people. Are hair transplants successful? Most of the patients come with this query to the surgeons. It's crucial to consult an expert surgeon regarding your hair issues before getting your surgery done.
What is a hair transplant?
A Surgeon performs hair transplantation to add extra hair to your head's thinning or balding area. To accomplish the procedure, surgeons transplant hair from a thick dense hair area of the scalp or other body parts to the thinning or balding area of the scalp.
Hair transplantation grows hairs in areas of the scalp where there is little or no growth. Hair loss and thinning hair are natural aspects of aging, but they can also be caused by sickness or trauma to the scalp. So, some hair loss persons may opt for a hair transplant for reconstructive purposes.
What are the different types of hair transplant? How does it work?
To be precise, a hair transplant is the transfer of hair roots from one place of your body to another. Hairs are usually taken from the back of your head, but surgeons can take hair from other areas of your body to have an overall aesthetic appearance.
Before starting a transplant, your surgeon numbs the region from where the hairs will be removed using local anaesthesia. You can also request a sedative option if you want to sleep during the treatment.
There are two types of hair transplant methods; your surgeon might perform any one of them:
FUT (Follicular unit transplantation)
FUE (Follicular unit extraction)
Follicular unit transplantation (FUT)
FUT is a type of hair transplantation in which a surgeon cuts a small strip  of skin from the backside of your head and dissects individual hair follicles. These follicles are then implanted in the areas of your scalp that are balding. The surgery is most effective for covering a receding hairline caused by male pattern baldness.
The conditions mentioned below makes you an ideal candidate for FUT treatment:
Patients who have a higher grade of baldness and their donor area is very small.
Patients who don't want to trim their hair for social reasons.
This is better suited for a person where, according to surgeon, he will require more than 2 sessions to cover the whole area of baldness
In patients who have curly hairs or Afro-hairs
Follicular unit extraction (FUE)
Follicular unit extraction is another technique of hair transplant. Individual hair follicles are extracted from the back of the scalp and moved to another part of the scalp where the hair is weaker or non-existent. Surgeons employ micro punches to remove and reposition follicle units, leaving almost little or no trace of the extraction in the donor area.
The treatment is expected to be safe, with just mild side effects such as tiny white scars where follicles were plucked.
There can be a slight possibility of experiencing temporary side effects like swelling, sensitivity, or bruising, which will disappear after a few days of treatment.  In exceedingly rare circumstances, infection may occur where the procedure was performed.
FUE is frequently performed in a series of 2-to-4-hour sessions spread out in a single day, and a mega operation may last 10 to 12 hours. Because FUE is an outpatient surgery, you can usually go home after the procedure.
Someone suffering from baldness or thinning of hair that still has enough hair nearby to use for a transplant is an ideal candidate for an FUE hair transplant. If you don't have enough healthy or thick hair to transplant to the thinning or balding area, you may not be an eligible candidate for an FUE hair transplant.
Body hairs are exclusively done by FUE method. here, the hairs from the body areas like beard/chest/abdomen/back/pubis are extracted using the FUE technique and transplanted on the balding area.
In today's time, FUE has become more popular than FUT.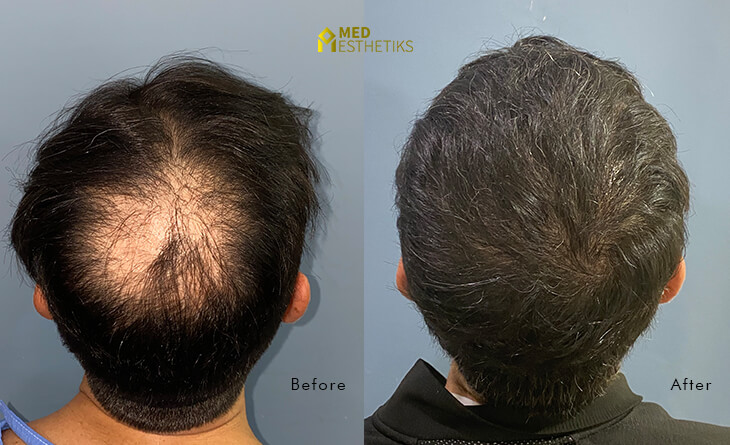 What to expect? Are hair transplants successful?
There are chances of numbness/sensitivity in the scalp after surgery. It is better to take pain relievers for a few days. Your surgeon may also give you an antibiotic or an anti-inflammatory medication to take for a few days.  For at least two days, they will have you wear bandages over your scalp. Most people can return to work after two days or max a week of the procedure.
The transplanted hair might take 2 to 3 weeks to fall out after the surgery. Nevertheless, you will start experiencing new hair growth within a few months. Some surgeons recommend minoxidil (Rogaine)  hair-growth medicine to enhance hair growth after transplantation. After 6 to 9 months, most patients will notice 80% new hair growth.
Follicular unit transplantation and Follicular unit extraction procedures can take a few hours to a day to complete, which is partly determined by the quantity of effort performed by the surgeon. You will be discharged the same day as the procedure.
In terms of patient's contentment, success varies widely from doctor to doctor. This is influenced by the doctor's skills and expertise, and available technologies. Doctors with a good reputation have a success rate of near 100%. It is best accomplished when doctors and patients work together to design plans and tactics for hair recovery that are tailored to each patient's requirements.
Are hair transplants successful? Make sure to ask this question from your surgeon while considering hair transplants. At Med Esthetiks, We not only have highly qualified and experienced Surgeon who perform this treatment but our entire consultation guarantees that you are fully aware of your potential for care.