What is a Good Age for Blepharoplasty?
Dr. Lokesh Handa
Are you struggling with the appearance of your eyes? Looking for a method to enhance your eye appearance? Well, you can get beautiful eyes through a process known as Blepharoplasty surgery in Delhi.
As you get older, your face shows signs of ageing, which affects more than just your overall appearance; it also affects your eyes. If you've tried non-invasive treatments and techniques to improve the appearance of your eye area but haven't gotten the results you want, we'd like to introduce you to the one that will.
What is Blepharoplasty?
Blepharoplasty, also known as eyelid surgery, is a procedure used to repair droopy skin of the eyelids. Excess fat, skin, and muscle may be removed during the procedure. Puffiness in the eyes is a natural process that occurs as people age. The condition is caused by weakening the muscles that support the eyelids, causing them to stretch. Excess fat accumulates above and beneath the eyelids as a result. It causes an individual's brows to sag and gives the appearance of bags under the eyes.
Non-surgical blepharoplasty is also an option. This is a non-invasive process in which injectable fillers are used. Injectable fillers help to rejuvenate and replenish the region around the eyes.
What is the Appropriate Age for Blepharoplasty?
When you reach the age of 40-45 years, your eyelids begin to droop. This is the perfect age for blepharoplasty, though it can also be performed on younger patients.
Why Do You Need Blepharoplasty?
This is a purely aesthetic procedure. It can help elderly people whose drooping upper eyelid skin impairs their vision. The procedure, however, will not remove dark circles under your eyes or any other fine lines on your face. The surgery can be combined with other procedures such as forehead lifts, laser treatment, or filler injections to bring added results.
A layer of fat behind your eyes protects your eyeballs from the skull. As you get older, your upper and lower eyelids may bulge. Because the membrane that keeps the fat in place is weakening, it may protrude into your eyelids. This necessitates blepharoplasty.
How is Blepharoplasty Done?
The upper eyelid procedure differs from the lower eyelid procedure. It all depends on who needs the surgery. The surgeon will lift your skin upward and remove any excess skin from the lower eyelid. They will remove the fatty tissue from the upper eyelids. The process is not the same for everybody who seeks it. It varies depending on the degree of treatment required.
After you heal, you will have firmer eyelids, less sagging skin, and non-puffy eyes. Your look will improve for years to come.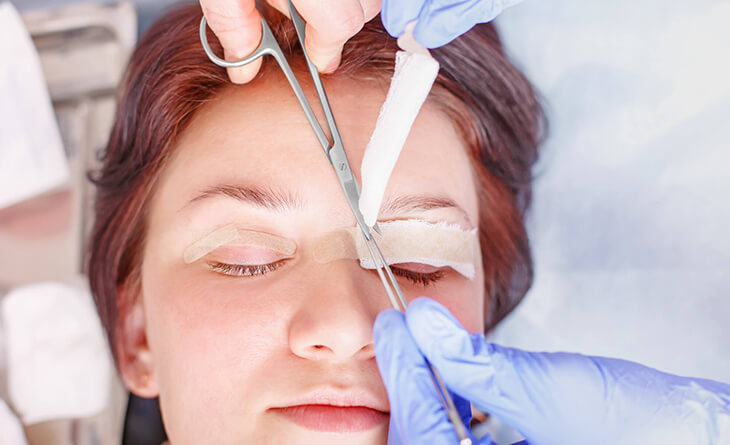 What Can You Expect?
Blepharoplasty is typically done as an outpatient procedure under IV sedation and anaesthesia. The entire procedure takes 1-2 hours. Following upper lid surgery, small dressings are applied so as not to obstruct eye-opening.
You should quit taking blood thinners at least two weeks before surgery for the best results. However, consult with your doctor first to ensure that your regular care is not jeopardised.
When is it not necessary to have the process?
It is not recommended that you go through this process if:
If you have drooping brows, the procedure may aggravate the condition
Being afflicted with severe disease or infection
Have been diagnosed with an eye disease or infection
want to advance crow's feet
Have noticed signs of dry eyes
Knowing the Procedure's Limits
This process does have some limitations, such as the inability to treat crow's feet or wrinkles around the outer corners of the eyes. However, other treatments and methods can be used to tailor your procedure to address both your upper and lower eyelids and crow's feet, and eye wrinkles.
Furthermore, if you have dark circles under your eyes, depending on the underlying cause, this procedure may address them if skin folds or skin issues cause them. If other factors, such as hyperpigmentation, cause the dark circles, we use non-surgical methods to correct them.
Guidelines to Follow After Surgery
Your doctor may give you a list of minor restrictions to adhere to after surgery. These are meant to help you recover. For example, after sedation, you should not drive for 24 hours. While light activities such as cooking or going for short walks can be resumed the next day, rigorous activity should be avoided for a week. We define strenuous as anything that causes your heart rate to rise.
It is also critical not to touch your incision, including scratching or pulling. Also, don't pull or rub your lids, as this can cause your sutures to come undone and reopen the incision. Wear no makeup near the incision until your surgeon tells you otherwise, and plan on missing four to five days of work.
Dr Lokesh Handa, the renowned plastic surgeon in Delhi, holds many successful eyelid surgeries to his credit. Under his supervision, many patients have experienced successful surgical results at Med Esthetiks.
Call now to book an appointment with Dr Lokesh Handa, the best blepharoplasty surgeon in Delhi, to get those youthful eyes.