Is Blepharoplasty Plastic Surgery?
Dr. Lokesh Handa
Our eyes are most of the most attractive features, but with ageing, our skin becomes saggy, and our muscles weaken with ageing. This accumulates loose skin on the eyelids, which generates folds and deeper wrinkles in the lower lids. A blepharoplasty surgery procedure can help improve the eyelids' appearance by removing excess skin and fat.
The surgery may be aesthetic or necessary to enhance vision. Blepharoplasty can be performed on both the upper and lower eyelids and can be combined with other facial cosmetic treatments.
Let's explore what blepharoplasty is.
What is Blepharoplasty Surgery?
Blepharoplasty, also known as eyelid surgery, is a cosmetic procedure that involves the removal or repositioning of excess skin and fat from the upper and lower eyelids. The procedure is performed to improve the appearance of the eyes by removing the sagging skin and puffiness that can make a person look tired or older.
The blepharoplasty surgery in Delhi can also improve vision in some cases if the excess skin is obstructing the upper eyelid. The procedure can be performed on the upper eyelids, lower eyelids, or both.
The blepharoplasty procedure is typically performed as an outpatient procedure, which means the patient can go home the same day. The procedure is usually done under local anaesthesia.
For the upper eyelid surgery, an incision is made along the eyelid's natural crease. For lower eyelid surgery, an incision can be made just below the lash line, or in some cases, through the inside of the lower eyelid. After that, excess skin and fat are removed. The muscle and tissue that cause the eyelid to droop may be repositioned.
After the blepharoplasty surgery procedure, the incision lines are closed with sutures, and the eyelids are bandaged or taped. The patient will be given detailed instructions on caring for the surgical area and minimising discomfort and swelling during recovery.
Who is A Good Candidate for Blepharoplasty Surgery?
People seeking anti-ageing procedures are more likely to opt for eyelid surgery. Usually, a person with good health has realistic expectations is considered a good candidate for blepharoplasty surgery. Common reasons that people consider eyelid surgery include:
Sagging or drooping skin on the upper or lower eyelid makes them appear older or more tired
Puffy bags under the eyes that can make a person appear older or tired
Obstruction of the upper eyelid is affecting vision
Asymmetry of the eyelids
Remember, blepharoplasty surgery in Delhi is not recommended for people with certain medical conditions such as dry eyes, thyroid disorders, or cardiovascular disease, as well as for people who smoke or have a history of poor healing.
What to Expect After the Blepharoplasty Surgery?
After the blepharoplasty surgery, you can expect to experience some swelling and bruising around the eyes, which is normal and usually subsides within a few days. Your surgeon will also give instructions on caring for the incisions, including applying cold compresses to reduce swelling and discomfort and avoiding strenuous activities for a certain period.
Pain and discomfort with the blepharoplasty surgery procedure are usually minimal and can be managed with over-the-counter pain medication. You should avoid wearing contact lenses for at least a week and refrain from applying makeup for at least a week. Sleeping with the head elevated for a few days after the surgery is also advisable.
The downtime for blepharoplasty surgery varies depending on the individual and the extent of the procedure. Most patients can return to work and normal activities within a week or two, but this can vary depending on the individual.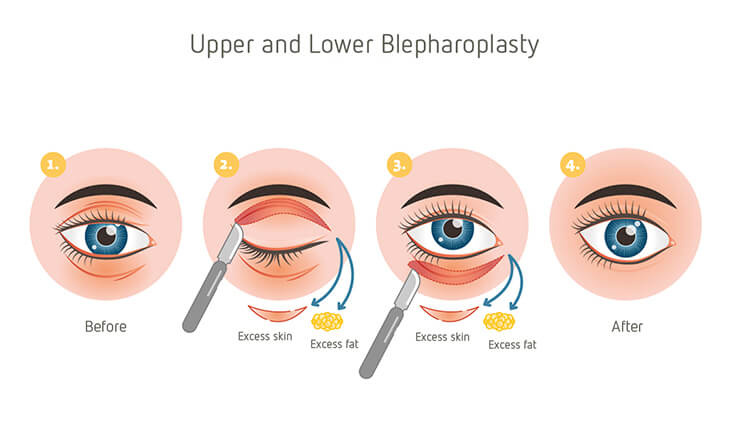 What are the Risks Associated with Blepharoplasty Surgery in Delhi?
Blepharoplasty is generally considered a safe procedure, but like any surgery, it does come with some risks. Some of the risks associated with blepharoplasty surgery include the following:
Infection
Bleeding
Scarring
Dr eyes
Asymmetry
Vision problem
Reaction to anaesthesia
Disappointment with result
However, consulting and discussing your realistic expectations with a board-certified plastic surgeon can eliminate these risks and complications.
How to Prepare for Blepharoplasty Surgery in Delhi?
Preparing for eyelid surgery is a complicated process. Here are the essential steps you need to take while preparing for a blepharoplasty surgery:
Consult with a board-certified plastic surgeon who has experience performing blepharoplasty. They will be able to determine if you are a good candidate for the surgery and explain the risks and benefits.
Stop smoking at least two weeks before the surgery. Smoking can slow down the healing process.
Avoid taking blood-thinning medications such as aspirin or ibuprofen for at least two weeks before the surgery.
Discuss your medical history, including any allergies, previous surgeries, and medications you are taking.
Arrange for someone to drive you home after the blepharoplasty surgery in Delhi and stay with you for 24 hours.
Follow all preoperative instructions given by your surgeon, such as not eating or drinking after a certain time the night before the surgery.
Have a good rest, and mentally prepare yourself for the surgery.
Avoid sun exposure and tanning beds for at least four weeks before surgery.
Having realistic expectations and good communication with your surgeon is important to ensure that you are well-prepared for the blepharoplasty surgery procedure and have the best possible outcome. Be sure to follow your surgeon's instructions carefully, and if you have any questions or concerns, don't hesitate to reach out to them.
Efficacy
Blepharoplasty is sometimes performed with another treatment to improve the overall outcomes. Some people with sagging brows may benefit from a brow lift, and others may even have a complete facelift to treat many aesthetic issues simultaneously. Ask your surgeon whether any further operations enhance eyelid surgery's benefits.
Choose the Best Surgeon!
Blepharoplasty is a plastic surgery involving removing or repositioning skin, muscle, and fat in the eyelid area. The procedure can be performed on the upper eyelids, lower eyelids, or both. The blepharoplasty surgery procedure aims to correct drooping or sagging eyelids, puffy bags under the eyes, and wrinkles in the eyelid area, as well as to improve vision in some cases where excess skin on the upper eyelids is blocking vision.
If you decide to have blepharoplasty, consult with trained experts at Med Esthetiks. They will inform you of what is feasible for you or what may provide the finest outcomes.