What Age Is Best for an Eyelid Lift?
Dr. Lokesh Handa
While many people ask this question, the truth is there is no definitive "ideal age" for eyelid surgery. Generally, this surgery is mostly performed on people in their 40s or older; However, some people may benefit from getting an eyelid lift in their 30s or 20s. Here we will discuss how age plays a role in eyelid surgery and what factors should influence your decision on when to undergo eyelid surgery.
But first: what could eyelid surgery do for you?
Eyelid surgery, also called an "eyelid lift" or "blepharoplasty surgery," is a surgical procedure that corrects excess skin, fat, or muscle tissue in the area around the eyes. Depending on the individual's needs, surgery may be performed on the upper eyelids, lower eyelids, or both the upper and lower eyelids together. This procedure is commonly used to correct drooping eyelids, puffy under-eye bags, dark circles around the eyes, and wrinkles around the eyes.
The Best Age For Blepharoplasty Surgery
A large segment of the population who have eyelid surgery is over 40. Most often, blepharoplasty is performed on patients who are in their 40s or 50s. This is because many issues corrected by eyelid surgery are primarily caused by aging. The naturally thin, sensitive skin around the eyes begins to sag and gradually becomes thinner as you age. This can lead to significantly visible wrinkles, sagging soft tissue, and pockets of fat displacement, all of which can create bulges, depressions, and lines around the eyes.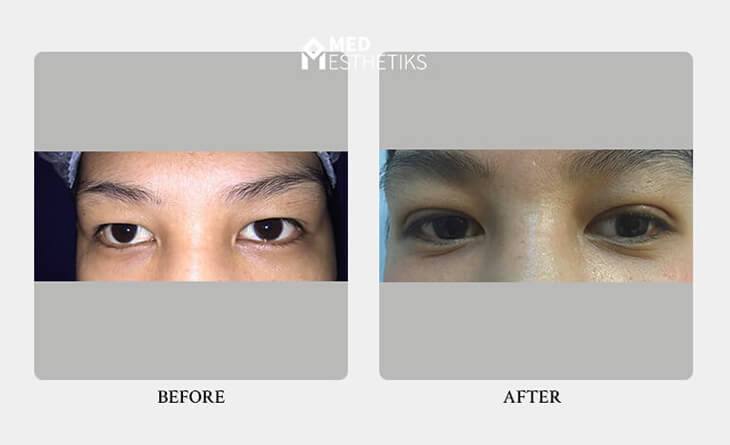 Indications for an Eyelid Lift
Undergoing blepharoplasty surgery can have aesthetic benefits and may help you look younger. It can also have functional benefits and improve your visual field by correcting drooping eyelids that obstruct vision.
Here are some telltale signs that an eyelid lift could benefit you. These include:
Excess upper eyelid skin
Hooding upper eyelids that droop over the eyes, obscuring your vision
Fat or skin folds that obscure the upper lids
Sagging and/or bulging around the eyes, which give you a tired, older appearance
A puffy appearance around the eyes
Dark circles under the eyes, which may be caused by displaced fat or shadows left by overhanging lids
Bags under the eyes due to displaced fat and/or sagging skin
Wrinkles around the upper and or lower eyelids
If you encounter any of these signs, you can consult your doctor about whether blepharoplasty surgery could help you. You may also consider an eyelid lift to look more refreshed and youthful. This procedure could be exactly what you may need to rejuvenate your appearance.
If you are considering eyelid surgery, schedule your consultation with our board-certified plastic surgeon Dr. Lokesh Handa at Med Esthetiks. His proficiency and profound knowledge in eyelid surgery, aesthetics, proportions, and body symmetries are imbibed and reflected in the aesthetic transformation of your face with utmost precision. Dr. Handa can assess you and recommend whether eyelid surgery or another procedure could help you.