The Ultimate Guide to Blepharoplasty Surgery: What to Expect Before, During, and After the Procedure
Dr. Lokesh Handa
Are you tired of looking in the mirror and seeing sagging, droopy eyelids that make you appear tired and older than you really are? Or maybe you're just unhappy with the natural ageing process taking a toll on your once-youthful appearance. If any of these sound familiar, blepharoplasty surgery in Delhi may be the solution, you are looking for.
As we age, the skin around our eyes loses its elasticity, and muscles weaken, causing the skin to sag and fat to accumulate. This can make us appear tired and older and can even impair our vision in severe cases. Blepharoplasty surgery can address these concerns by removing excess skin and fat, tightening the remaining tissue, and smoothing out any wrinkles or lines around the eyes.
But before you make the decision to undergo the procedure, it's important to understand what to expect throughout the process.
What is Blepharoplasty Surgery?
Blepharoplasty surgery, also known as eyelid surgery, is a cosmetic procedure that removes excess skin, muscle, and fat from the upper and lower eyelids. The goal of blepharoplasty surgery is to improve the appearance of the eyes by creating a more youthful and rejuvenated look.
Blepharoplasty surgery can be performed on the upper eyelids, lower eyelids, or both, depending on the patient's individual needs and goals.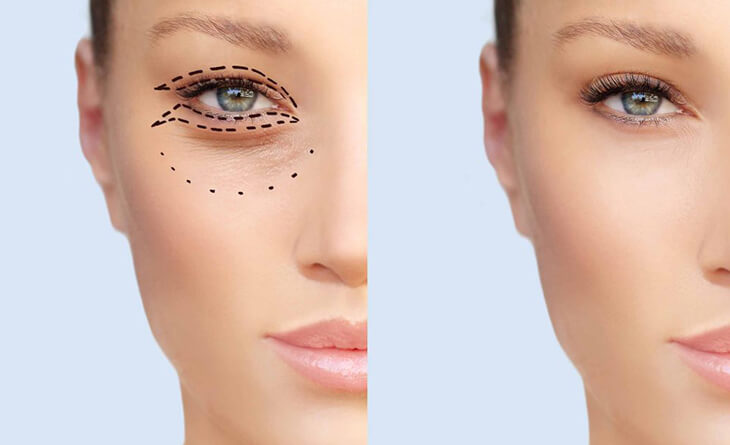 What to Expect Before Blepharoplasty Surgery Procedure?
Before undergoing blepharoplasty surgery, there are several things that you can do to prepare for surgery.
Research
First, you must research and find a board-certified plastic surgeon with experience performing blepharoplasty surgery. You can ask friends, family, or your primary care physician for recommendations. You can see before-and-after photos of previous patients, read patients' reviews, and check the surgeon's credentials.
Schedule a Consultation
Schedule a consultation with your surgeon to discuss your goals for the procedure, ask any questions you may have, and determine if you are a good candidate for the surgery. During the appointment, your surgeon will evaluate your eyelids and discuss your goals for the procedure. They will also review your medical history and medications to ensure you are a good candidate for the surgery.
Preparation
Your surgeon may recommend pre-operative testing, such as blood work, to ensure you are healthy enough to undergo blepharoplasty surgery in Delhi. Your surgeon may ask you to stop taking certain medications that can increase the risk of bleeding, such as aspirin and ibuprofen. Also, quit smoking before the surgery because smoking can interfere with healing and increase the risk of complications. You will need someone to drive you home after the surgery, and you may need assistance with daily activities for the first few days.
What to Expect During Blepharoplasty Surgery?
During the blepharoplasty surgery in Delhi, you can expect the following:
Anaesthesia
The procedure will begin with the administration of anaesthesia. Your surgeon will discuss the type of anaesthesia that will be used, which is typically local anaesthesia with sedation or general anaesthesia.
Incisions
Your surgeon will make precise incisions along the natural creases of your eyelids to minimise any visible scarring. For the upper eyelids, the incision will be made in the crease, while for the lower eyelids, the incision will be made below the lash line or inside the lower eyelid.
Tissue Removal and Closing Incision
Depending on the extent of the blepharoplasty surgery procedure, your surgeon will remove excess skin, muscle, and fat from your upper or lower eyelids to create a more youthful, rejuvenated appearance. He/She will take care to preserve the natural shape and contour of your eyes.
After removing the excess tissue, your surgeon carefully closes the incisions using fine sutures. If necessary, your surgeon may perform additional procedures, such as a brow lift or laser resurfacing, to improve the overall appearance of the eyes and face. The amount of tissue removed is the significant factor impacting blepharoplasty surgery cost.
Recovery
The duration of the procedure varies depending on the extent of the surgery but typically lasts between one to three hours. Once the procedure is complete, you will be taken to a recovery area, where you will be monitored for a short time. Your surgeon will provide detailed post-operative instructions, such as keeping your head elevated, applying ice to reduce swelling, and using eye drops to promote healing.
What to Expect After Blepharoplasty Surgery?
After the blepharoplasty surgery in Delhi:
Swelling and Bruising
Swelling and bruising are common after the surgery and may take several weeks to subside. You can use ice packs, keep your head elevated, and over-the-counter pain medication to manage discomfort.
Pain and Discomfort
You may experience some pain and discomfort in the first few days after the surgery, which can be managed with pain medication prescribed by your surgeon.
Risks and Complications
Although rare, some risks and complications are associated with blepharoplasty surgery procedure, such as bleeding, infection, scarring, and vision changes.
Medication
Your surgeon may prescribe pain medication or antibiotics to help manage pain and prevent infection. You may need eye drops or ointment to keep your eyes moist and to avoid dryness.
Results
After the swelling and bruising subside, you can expect a more youthful and refreshed appearance around your eyes, with a reduction in wrinkles and sagging skin.
Activity Restrictions
You should avoid strenuous activities, heavy lifting, and bending for the first few weeks after the surgery. You should also avoid rubbing your eyes or wearing contact lenses until your surgeon gives you the go-ahead.
Follow-Up Appointments
Your surgeon will schedule follow-up appointments to monitor your healing progress and remove any sutures or stitches. You will need to attend follow-up appointments with your surgeon for a fast recovery. These follow-up appointments can also impact the blepharoplasty surgery cost.
Follow all post-operative instructions provided by your surgeon to ensure a smooth and successful recovery. If you experience any unusual symptoms, such as excessive bleeding or severe pain, contact your surgeon immediately.
Schedule Your Appointment Today!
If you are looking for eyelid surgery, look no further than Dr Lokesh Handa, a board-certified plastic surgeon in Delhi. With his expertise and years of experience, he can help refresh your appearance and achieve brighter, younger-looking eyes.
Don't wait any longer to achieve the look you've always wanted. Schedule a consultation with Dr Lokesh Handa today and take the first step towards a more confident and youthful you!