Is Liposuction Surgery Painful?
Dr. Lokesh Handa
Liposuction has evolved as one of the most popular cosmetic surgery procedures currently performed by plastic surgeons worldwide. It is an effective treatment that comes into play when a healthy diet and exercise regimen fails to help you get rid of your excess fat. The procedure is also known as lipectomy, lipoplasty, and liposculpture.
Being one of the most innovative cosmetic surgery procedures, Liposuction surgery in Delhi is highly ranked due to its success rates. However, people are still anxious about certain aspects of surgery. The prime concern is the pain anticipated during and after the procedure.
If you are considering liposuction, it is normal to be anxious about the pain. Setting realistic expectations about the procedure and understanding your pain tolerance will help you prepare better.
Now let us understand the pain during liposuction, realistically.
To start, open and transparent consultation with your board-certified plastic surgeon will help you get clarity on all aspects of the procedure, including how painful is liposuction. This may help you ease your anxiety.  During the consultation, your surgeon will take you through the surgery phases such pre-operative phase, procedure, post-operative phase, recovery, and downtime. Speaking with an amicable, qualified and expert, board-certified plastic surgeon and sharing your concerns is the best way to start the journey for your liposuction surgery. It can be highly informative, helpful and relaxing when you clarify your queries before this life-altering procedure.
Is liposuction surgery painful?
Liposuction surgery in Delhi is an invasive surgery performed under general anaesthesia.  This means you won't sense any pain during the procedure. Surgical devices are implemented for emulsifying or loosening the fat. It may involve power assisted or ultrasonic tools and the use of a cannula or rod. These tools let your surgeon carefully remove the fat. During the entire course of the procedure, you are comfortably sleeping under an adequate dose of anaesthesia and cannot feel anything. Anaesthesia keeps in effect for 12 to 24 hours post the procedure. This also helps to control pain during that initial recovery phase.
However, you may expect some amount of discomfort and pain after the procedure. This pain usually subsides in two to three days. Your surgeon will prescribe pain medication and tranquillisers to help you feel comfortable during recovery.
The intensity of the pain during the recovery also depends on multiple factors such as the patient's own response system, site of the surgery, type of anaesthesia used, patient's body strength, and overall health.
So, the answer is, yes there may be some pain, which is easily manageable if you follow your surgeon's advice and guidelines thoroughly during the recovery period.
How does it hurt after liposuction surgery?
This process of fat excision is less invasive compared to most surgeries. However, it may involve mild irritability to adjacent tissues, nerves and blood vessels and stimulate a direct pain response. Remember, every surgery has postoperative pain, which is controllable, and easily managed if you are in the hands of a good surgeon. It is also to be noted that pain after liposuction aided by modern and sophisticated tools is insignificant when compared to traditional liposuction. This is because the liposuction tools such as VASER help minimise discomfort. Hence, approaching a surgeon operating from a fully-equipped, state-of-the-art facility becomes even more important.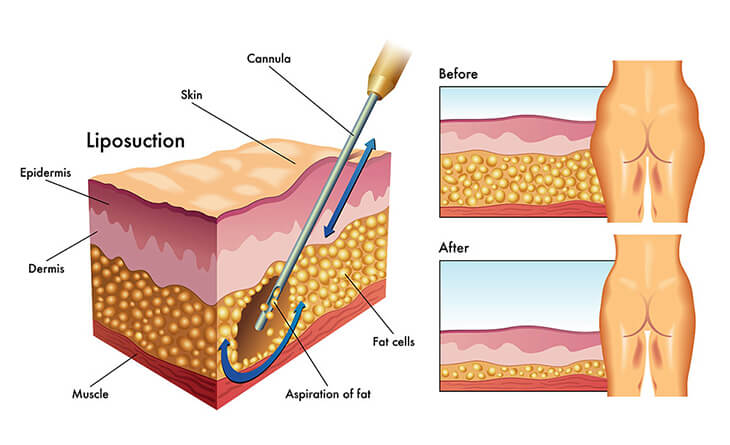 How is the post-operative phase after liposuction surgery in Delhi?
After the surgery, the area adjacent to your surgical site may appear sore and swollen. There may be bruises, too, which is normal after any surgery.  The swelling and discomfort regress completely during the recovery phase allowing you to get better rapidly.
How to minimise liposuction pain after the surgery?
Recovery Guidelines and Compression Garment
Your surgeon will advise multiple post-operative guidelines that you need to follow strictly. This definitely helps reduce your pain and discomfort. Moreover, your surgeon's goal is to expedite healing and ensure a smooth recovery; thus, he may prescribe antibiotics, analgesics or pain killers. These medications lessen the pain and speed up wound healing.
To further provide support, your surgeon will prescribe a compression garment to be mandatorily worn 24/7 for a few weeks after the surgery. The application of a compression garment puts pressure on your body, limiting swelling or inflammation. It also helps block the nerves that transmit pain and sensation to adjoining areas. Thus, the use of the compression garment also helps to manage the pain to a great extent.
Regular post-op review visits are highly recommended as they help your surgeon keep a close watch on the recovery progress and maintain overall monitoring of the surgical site.
Recovery in Liposuction
Liposuction surgery in Delhi is a simple, safe and straightforward day-care procedure. That means you may return home within a few hours of surgery. The recovery is smooth and safe, provided you follow post-operative instructions without fail.
These guidelines include your medications, proper wound care, positioning your body, mild walking exercises, a prescribed diet, and avoiding strenuous work. If you do not want to suffer exceptional pain after the surgery, you must follow your surgeon's advice, and you will see a faster, more comfortable recovery.
Now let us say that to attain a "wow" factor in all aspects across your treatment, bearing mild pain is a reasonable price to pay.
So, here is the answer to your question: Is liposuction surgery in Delhi painful?
Yes, it is painful after the procedure, but the pain is minimal if you are at a well-equipped operating facility headed by a board-certified surgeon. If you are considering liposuction surgery, speak right away to Dr Lokesh Handa about your surgery-related concerns. Dr Handa is a board-certified expert plastic surgeon in Delhi, heading Med Esthetiks, your go-to place for all cosmetic correction procedures. The renowned surgeon helps you walk through every stage of surgery without you having to face any complications while putting the best results in place.