How is Liposuction Surgery Done?
Dr. Lokesh Handa
Liposuction surgery is a term for a series of surgery performed to eliminate abnormal fat from your body. The fat that is rigid to diet and exercise is removed through liposuction surgery. It is cosmetic surgery. It focuses any stubborn fat on your body. The abdomen, hips, thighs, waist, chin, calves, buttocks, upper arms, male breasts etc., are the common sites for liposuction. It is done to restructure the shape and outline of your body.
Liposuction emulsifies the fat through different procedures and is suctioned out. Liposuction may be performed in combination with surgeries like breast reduction, tummy tucks and gynecomastia etc.
Benefits of Liposuction Surgery
Eliminate diet and exercise-resistant fat
Imparts a healthy physique and contour
Enhance your overall health and appearance
Different Liposuction Procedure
Different methods are implemented for liposuction. The technique chosen relies on the plastic surgeon and your requirements. The liposuction surgery cost varies accordingly. The procedure is done under general anaesthesia.
Tumescent Liposuction is the most prevalent procedure. It involves giving incisions on the skin, followed by injecting a tumescent solution. It is the fat emulsifying solution where a cannula is inserted, adhering to a suction apparatus for fat elimination.
Ultrasound-Assisted Liposuction Surgery is a sophisticated liposuction technique. It begins with a minor incision. Then a device is inserted. It emits ultrasonic waves under your skin. It aids in the collapse and liquefying the fat deposits.  Then the dissolved fat is suctioned out.
Laser-Assisted Liposuction Surgery uses the laser device to emulsify the fat. Your surgeon unclogs the fat with a high-frequency laser tool. The liquefied fat is suctioned out.
Power-Assisted Liposuction uses a power-driven cannula inserted into the subcutaneous layer to the fat deposits. The back-and-forth motion of the cannula mobilises and unclasps the fat deposits. The fat is then suctioned out. It is a minimally invasive procedure.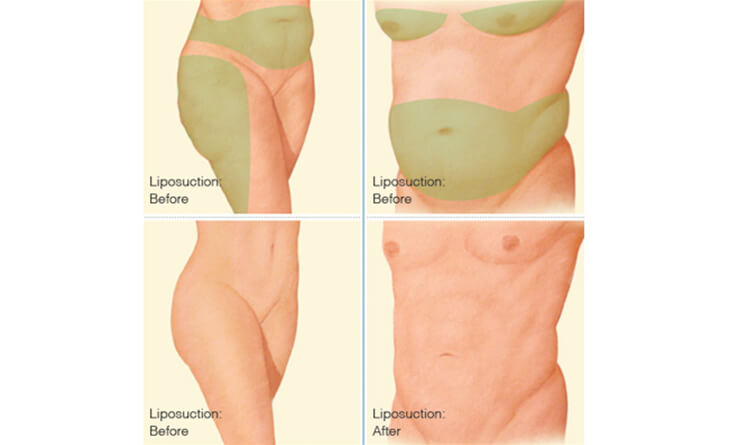 How is Liposuction Surgery Done?
Liposuction surgery is done under general anaesthesia. It is minimally invasive, safe and straightforward, and painless. The duration of the surgery varies according to the site and the amount of fat to be eliminated. An expert plastic surgeon evaluates every aspect of surgery. They plan the preoperative, operative procedures and postoperative phases precisely to avert any complications.
Let us analyse each phase of the surgery.
Preoperative Measures for Liposuction Surgery
This is a critical phase when your surgeon prepares you for the surgery. Essentially you must be healthy. The routine haematological, ultrasound and other investigations are done to rule out any disorders or complications. Moreover, certain precautionary measures are to be followed to avert any unusual complications during surgery.
It mainly includes:
Cessation of smoking and alcohol before and after surgery as advised by your surgeon
Discontinuation of anticoagulants, non-steroidal anti-inflammatory drugs for a few weeks before surgery
It is to restrict any abnormal bleeding during the procedure
Administration of iron supplements for anaemic individuals
The precautions ensure a smooth procedure and expedite post-operative healing. Once you meet the requirements, you are ready for the procedure.
The Operative Phase
Mostly, liposuction surgery is performed under general anaesthesia. The procedure or the method adopted depends on your requirements and your surgeon. Here is the following sequence of surgery.
Your surgeon outlines the surgical sites on your body.
Administration of anaesthesia
Gives an incision at the surgical site over the fatty area
Inserting a cannula for the emulsification of fat
Emulsifying or liquefying the abnormal fat using the appropriate liposuction method mentioned above
Fat is suctioned out.
 The incisions are sutured with absorbable sutures.
Dressing of wound
The outcome of the surgery is visible immediately.
Postoperative Care and Recovery After Liposuction Surgery
It is essential to strictly follow the post-operative guidelines of your plastic surgeon. It enables smooth and swift healing. Like any surgery, you are likely to encounter specific post-operative symptoms like swelling, numbness of skin around the incision, pain.  However, they subside absolutely during the healing phase. Complete recovery is attained within a few days. Few post-operative cares include:
You may require an overnight or few hours of hospital stay
Analgesics and antibiotics to relieve the pain and expedite recovery
Compression garments to curtail the swelling. It also restricts the mobility of the site subjected to surgery
Adequate rest is advised
Mild exercises as suggested by your surgeon
These instructions expedite the recovery.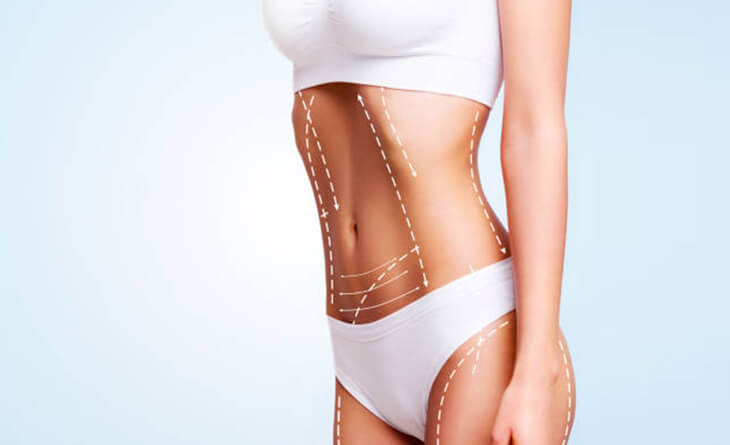 Postoperative Complications
Postoperative complications are encountered when the surgery is performed by an inexperienced surgeon without a well-equipped infrastructure. The liposuction surgery costs may be less; however, such places may interfere with the outcome. Therefore, it is essential to select the best plastic surgeon and centre to ensure the best outcome.
Here are a few possible complications:  
Adverse effects of anaesthesia
Abnormalities in contour
Persistent pain
Skin discolouration
Infection
Bumpy skin due to inaccurate fat elimination
Fluid accumulation which requires immediate drainage
Delayed healing
Unaesthetic appearance
Liposuction surgery requires immense skills. You may avert such complications by opting for the best surgeon with state-of-the-art facilities and well-equipped infrastructure. Such facilities may escalate the liposuction surgery cost. However, such expert surgeons and centres assure exceptional results with utmost precision. The expertise of your surgeon, well equipped and ultramodern infrastructure, combined with updated technology, reflects in every aspect across your treatment.
Liposuction is a long-lasting cure for fat removal. It is a reliable and secure procedure for immediate outcomes. The accuracy in surgery can override the liposuction surgery costs. However, to maintain the outcome of the surgery, it is essential to modify your lifestyle. It includes a well balanced and nutritional diet alongside routine workouts.
Dr Lokesh Handa is a renowned plastic surgeon with years of experience in liposuction surgery. His profoundness and expertise in every nuance of liposuction surgery are evident in the outcome of surgery.  Dr Handa's calibre clubbed with innovative techniques and sophisticated infrastructure ensures accuracy with natural aesthetics.