How to Choose the Best Hair Transplant Clinic in Delhi
Dr. Lokesh Handa
Hair transplantation is a surgical procedure where a plastic surgeon takes hair follicles from one part of your head (donor site) and transplants them to a bald head area. This is called the recipient site. Usually, hair is taken from the back or sides of the head. Hair transplant in Delhi mainly treats male baldness.
Hair loss is due to multiple factors, which include genetics, dietary imbalance, unhealthy lifestyle, excessive use of chemical-based hair products, stress from certain medications, hormonal imbalances, etc. A hair transplant is a permanent solution to balding, making it the best treatment available.
How to Choose the Best Hair Transplant Clinic in Delhi?
Choosing the ideal operating facility that understands your needs and technique based on your aesthetic requirements is essential. Selecting the wrong transplant clinic can significantly impact your outcome – something you do not want with such a necessary procedure.
Currently, hair transplant clinics are budding up every day around us. So you should be alert in selecting the best hair transplant center. There are various factors to consider in choosing the best clinic. Here we shall analyze a few prime factors.
Doctor's Credentials
The most prominent factor is the plastic surgeon's credentials in performing the hair transplant surgery.  Ensure the doctor is a board-certified plastic surgeon and expert in the hair transplant procedure. They should be experienced to comprehend every nuance of hair transplant surgery. Doctor's experience also matters since not all surgeons are trained in hair transplant procedures. So you need to find a surgeon who has enough experience in hair transplant surgery with a few years of experience.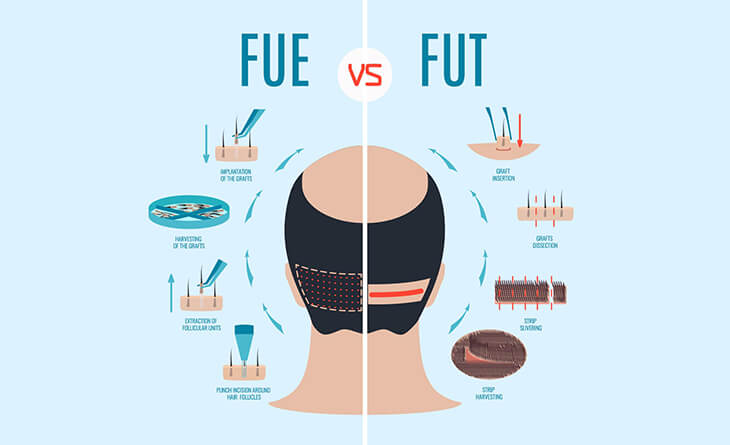 Aesthetic Expertise of the Surgeon
Hair transplant surgeons should have the aesthetic skill to set the grafts. Fixing them varies depending on the age, gender and profile of the patient. The artistic talents of the surgeon contribute to the success of the hair transplant procedure. Creating a precise hairline design for the graft demands exceptional skills. This can be attained only by an experienced hair transplant expert at the best hair transplant clinic in Delhi.
Techniques  Used in the Procedure
The hair transplant techniques used today are immensely sophisticated. They enhance the results manifold. Therefore, the clinic you choose must have access to the latest technology for the surgery. Two main hair transplant techniques are used, FUE and FUT, which are explained in detail below.
Follicular Unit Transplantation (FUT)
In this procedure, the surgeon uses a scalpel to incise a strip of skin from your scalp.  The incision is later sutured. Then this strip is dissected into single grafts. It is done with the help of a magnifier and surgical knife. Once implanted, these tiny grafts provide natural hair growth, ensuring stunning results after a hair transplant in Delhi.
Follicular Unit Extraction (FUE)
In this technique, the hair follicles are taken out directly from the back or sides of the head. It is done through numerous minute punch incisions. The surgeon creates tiny holes with a surgical blade or needle to implant the hairs. Hundreds of thousands of hair may be implanted during a single session, enhancing results and good aesthetic value. Then your scalp is dressed with bandages for a few days.
Reviews
Reviews are some of the most reliable methods to ensure you get good results since you see reality as it is. Truly transparent centres usually have pictures on the website for your perusal, so you better understand what to expect from your surgery.
You can check the reviews of a surgeon specialising in hair transplants in Delhi online. Check for their patients' opinions and recommendations. Compare the before and after-surgery photographs of patients who underwent the procedure.
Do I get hair immediately after a hair transplant in Delhi?
No, you should not expect a total, healthy dark outgrowth of hair immediately. The growth occurs only gradually in the initial three months after your transplanted hairs fall out. While this sounds scary and somewhat counterintuitive, this is a normal phenomenon. Once you surpass this stage, the new hair growth begins within six to eight months.
The innovations in cosmetic surgery and technological advancements have enhanced the accuracy of hair transplant procedures. With the onset of hair growth, it will be hard to differentiate your transplanted hair. The goal, after all, is to ensure natural-looking results – something only the best clinics can promise.
Recovery and Results from Hair Transplant Surgery
Postoperative care is a crucial factor for both recovery and results. In certain patients, permanent and precise results are attained with a single sitting. Others may require multiple sessions. This will be suggested when you visit the best clinic for hair transplants in Delhi. Additionally, you may also shed the original hairs in due course of time. In such cases, you may need review sessions. The complete results are only evident in six to twelve months.
The success of your hair transplantation depends on several factors, such as
Availability of follicles
Expertise and experience of the surgeon
Technique
Postoperative care
Additionally, the success also varies on an individual case basis. However, one way to ensure a successful outcome is by visiting an expert surgeon and a leading clinic for your hair transplant in Delhi.
Remember, hair transplants are the final solution to hair loss. Therefore, ensuring you get results should be of top priority for you. Choosing the right surgeon and centre provides a thorough analysis of your condition and enhanced surgical planning.
As a renowned expert in hair transplants, Dr. Lokesh Handa assures the best treatment tailored to every individual patient's needs. Backed by the state-of-the-art facility and the ultramodern infrastructure at Med Esthetiks, Dr. Handa promises advanced care and results to everyone under his care.