Does Liposuction Remove Fat Permanently?
Dr. Lokesh Handa
People are increasingly interested in non-surgical methods of sculpting their ideal curves. These options, however, are not always as effective as the gold standard in body contouring. Only one body sculpting method consistently produces the desired results and that is Liposuction surgery. Today, we'll discuss how liposuction can help you achieve contours you never thought were possible.
Before diving into the process, let us know what liposuction is.
Liposuction – What is it?
The procedure of liposuction helps you achieve a slimmer and more attractive silhouette by eliminating stubborn fat. Patients who want to slim down or tone up particular areas of their bodies, such as their hips, thighs, and abdomen, can use this increasingly popular cosmetic procedure. When diet and exercise fail to minimise or remove undesired fatty pockets that have become a vexing fixture in certain body areas, men and women can seek the cosmetic assistance of liposuction.
Dr Lokesh Handa, a board-certified plastic surgeon in Delhi, and his professional team at Med Esthetiks have helped numerous patients in the area revive their bodies with this fat reduction surgery. Is liposuction, however, permanent?
Is liposuction effective in permanently removing fat cells?
Every liposuction process is customised to meet the aesthetic goals of each patient. When conducted on healthy, nonsmoking adults who are within 30% of their ideal body weight, it can provide long-term results. Once the localised fat cells are removed with this fat reduction procedure, they are no longer present in the treated areas.
Liposuction, however, is not a replacement for a better living. It does cut down the number of fat cells in the target area, but the results may be affected if a patient's weight constantly changes. To keep their current look for years to come, it is generally recommended that patients stay close to their desired weight. If a patient feels the need to improve their aesthetics after their initial procedure, a follow-up fat reduction surgery is indeed an option. However, procedures have proved that the outcomes are satisfactory and long-lasting over a few years.
Liposuction – Procedure
The surgeon will either use general or local anaesthesia during the procedure to ensure that you are totally comfortable and do not feel any pain. Your preferences determine the method of numbing used, the amount of fat to be removed, and the number of treatment areas undergoing lipo. Your surgeon will advise you on the best option during your initial appointment.
Liposuction – What to Expect?
Even though liposuction surgery can help transform and contour specific body parts, it is not a magical weight loss solution. It is a cosmetic tool used to help healthy people put the "final touches" on their bodies and take them to the next level. It's a fat-reduction process that can eliminate extra fat and contour specific areas that aren't reacting to a healthy and active lifestyle. Patients who want to keep their long-term results must maintain a healthy lifestyle and remain within their ideal body weight to show off their new appearance.
Why are the Outcomes Permanent?
The results of this process are permanent because of the way the adult body functions. Thanks to years of incredible research advances, we now know that the adult human body is incapable of making new fat cells. Hence, once the fat is removed and the individual is maintaining their weight, the appearance will be intriguing permanently.
Are the results of this process permanent for everyone?
Yes, the results of this process are permanent for everyone. Let us understand that adult humans are unable to regenerate fat cells. They are gone for good once they are suctioned out in this procedure. However, there is one important caveat. It is possible that you will gain weight due to the procedure.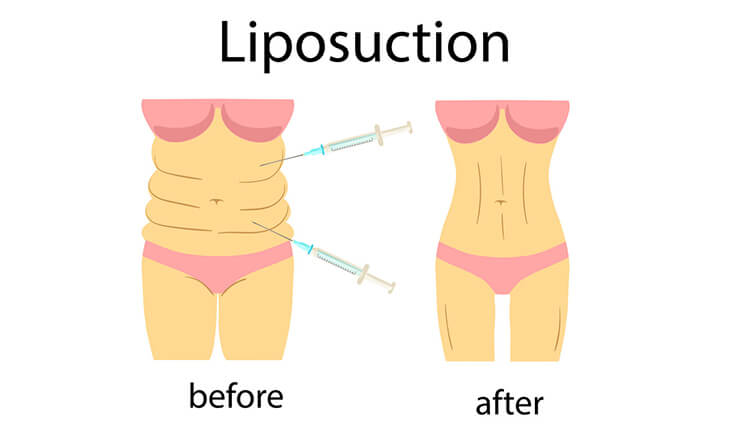 What Can I Do to Extend the Duration of My Procedure's Results?
You may be disappointed if your genetics and gender specify the number of fat cells you have and the extent to which your existing fat cells expand. You can, fortunately, extend the outcomes of your procedure.
Even though it is possible to store fat after your procedure, there are some things you should know about extending the results of your procedure.
Work-Out
Physicians worldwide agree that to keep the results of liposuction and your health, you must exercise on a regular basis. Working out is the most convenient way to create a caloric deficit. The average male requires approximately 2,000 calories per day. The average female requires approximately 1,500 calories per day. However, the more you exercise, the higher your resting metabolism is.
You are more likely to gain weight if your metabolism is slow. If you enjoy high-calorie foods and beverages, you are more likely to retain your ideal body shape if you exercise regularly and have a higher metabolism than if you are physically inactive.
Consume Nutritious Foods
Eating a nutritious diet is another excellent way to maintain the results of your procedure indefinitely. Eat nutritious foods high in healthy fats and protein and vegetables, fruits, and dairy, and assume no restricted diet due to medical issues. You will have enough micronutrients to keep your body functioning properly. To maintain a healthy diet, ensure that you consume sufficient micronutrients for your everyday needs on a daily basis.
Lifestyle
Your lifestyle choices heavily influence your postoperative success. For example, you may believe smoking is a good way to lose weight because you know a lot of normal-weight smokers. However, studies have shown that both tobacco and alcohol use are associated with weight gain. In addition, you should make a conscious effort to get enough naps. Insufficient sleep can result in depression, tiredness, and other serious issues.
Conclusion
It's time to stop guessing about how to contour your desired shape. Don't put your money into a body sculpting treatment that might or might not help remove a considerable amount of unwanted body fat. You need liposuction if you want to change your contours and life for the better. There are no standard charges for liposuction surgery costs in Delhi.
If you are looking for liposuction surgery in Delhi, call Med Esthetiks to schedule an appointment with renowned, qualified and experienced plastic surgeon Dr Lokesh Handa.