The Different Methods of Hair Transplant in Delhi
Dr. Lokesh Handa
A hair transplant is a cosmetic procedure that transplants hair from other parts of your body to a bald head area. The plastic surgeon mainly moves hair from the rear or sides of the head to the bald spot. Hair transplants are effective methods to restore hair growth after excessive hair fall, loss or balding. It is a permanent solution. Therefore, we want to evaluate and review the different methods of hair transplant in Delhi.
The principal reasons for hair loss include genetic factors, dietary imbalance, stress, hormonal imbalance, medications, and health disorders. Hair transplantation is a powerful tool that restores a natural and youthful appearance for all grieved by hair loss. It enhances your appearance and confidence. Precise patient evaluation and execution of a full-scale treatment plan is required. It can deliver a safe, accurate, and significant outcome.
Different Methods of Hair Transplant in Delhi
Before discussing the methods, we need to quickly understand two concepts – the donor site and the recipient site. Hair transplant depends on taking hair from one place where it is abundant (the donor site) and transplanting it to the balding or hairless region (recipient site). Understanding these concepts is crucial to know the difference between the two main hair transplant methods.
The predominant hair transplant methods include follicular unit extraction (FUE) and follicular unit transplantation (FUT). Currently, follicular unit extraction serves as the standard approach due to its prospective advantages.
Various other surgical treatment procedures like plug grafts, scalp reductions, transposition flaps have also been implemented in the past to cure hair loss. However, we want to outline the most prominent techniques of hair transplant in Delhi based on the follicular unit principle. Read more about follicular unit transplantation (FUT) and follicular unit excision (FUE).
Follicular Unit Extraction (FUE)
This is a mode of hair transplant that involves harvesting individual hair follicles from the donor to the implant site. Surgeons use micro-punches to extract single follicles without visible signs of extraction. Innovations of the FUE technique include the manual dull punch method, powered tools with oscillatory punches, and a vacuum apparatus, enabling minimal-invasive extraction. Advantages of FUE include:
Greater number of grafts
Less apparent scarring
Donor site hair density is not an inhibiting factor
Minimal postoperative pain after your hair transplant in Delhi
Rapid healing
The plastic surgeon can target follicles of a specific size with their diameter and pigmentation
Follicular unit extraction is done in four to six hour sessions
Rarely, sessions may last eight to ten hours
The surgeon can include hairs beyond the typical donor site, that is, the parietal scalp, beard, chest, pubis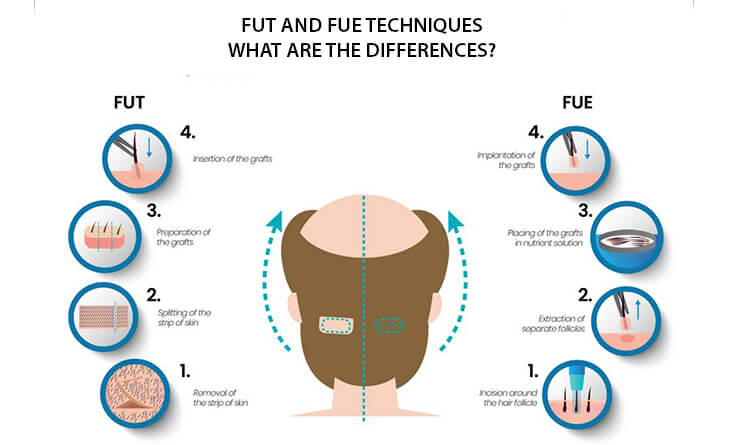 FUE Donor Site Harvest
Preparation of harvest site is the initial step for hair transplant in Delhi irrespective of the method.
The patient placement is in a prone position for ease of harvesting.
The donor site is trimmed to one millimetres to see the follicular angle
Anaesthesia is administered to the donor site.
The follicular unit is dissected out with the punch and taken out with delicate forceps
The extracted follicles are then directly transplanted into the recipient site.
Follicular Unit Transplant (FUT)
It is a hair transplant procedure. In this method, your surgeon surgically incises a strip of skin from the rear or the side of the head and dissects individual  hair follicles from the strip. They are later inserted into the hairless scalp. The method is most preferred for advanced grade hair loss treatment. FUT offers the following advantages when you visit one of the best hair transplant clinics in Delhi:
Shorter operative time
Minimal transaction of follicles
No need to trim the entire donor area
FUT Donor Site Harvest
This is the initial step for extraction of hair follicles for transplant, with the following requirements:
The patient maintains a prone position
The donor site's hair is shaved to two millimetres
The assigned strip length is outlined
A local anaesthetic is administered
High-quality hair transplants in Delhi then ensure an incision parallel to follicles
The donor strip is dissected off the scalp by removing excess subcutaneous tissue
The donor strip is sutured
The strip is dissected into vertical strips
Individual follicular units are then isolated and transferred into a holding medium
After the procedure, your surgeon repositions you into a sitting position.
Recipient Site Creation and Implantation
The implantation phase occurs in a minimally invasive and diligent fashion irrespective of undergoing FUE or FUT. For more natural results from your hair transplant in Delhi, you need a surgeon who follows your hair pattern and transplants accordingly. This means recreating an acute temporal recess in males and a blunt temporal recess in females. Additionally, they need to maintain the angles and orientation of the hairline to impart a natural result.
The recipient sites for the hair transplants are created randomly and irregularly. The graft is then placed into the recipient site gently. A topical antibiotic applicant and a non-adhesive bandage are applied across the donor and recipient sites.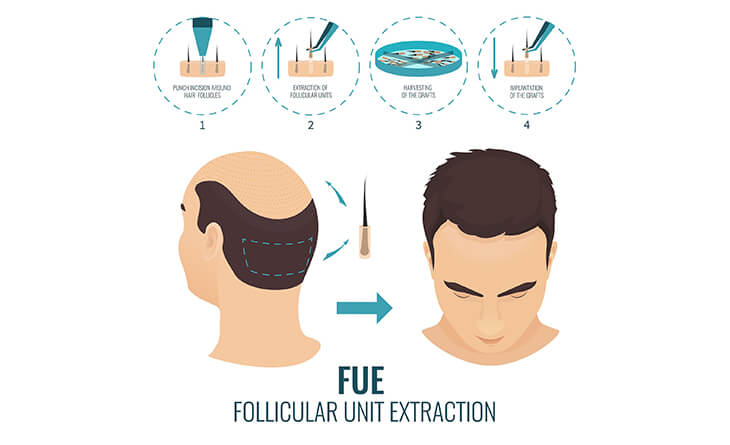 Recovery After Hair Transplant
Your scalp usually becomes sore, swollen and painful after your procedure. This regresses entirely during the healing phase, with the help of antibiotics and analgesics that expedite the healing.
Most people can resume their routine activities within a few days after surgery. It is common for the transplanted hair to shed three to four weeks after the transplant. This paves the way for new hair growth. Most people have experienced complete hair growth in eight to twelve months at the best hair transplant clinic in Delhi.
Complications Associated with a Hair Transplant
You may encounter adverse effects after your hair transplant if an unqualified or inexperienced person does the procedure. These risks include bleeding, infection, scalp inflammation, scarring and crust formation, numbness or loss of sensation over the scalp, rashes, folliculitis or infection of follicles, and an artificial appearance.
Therefore, hair transplant in Delhi depends on several factors, including whether the FUE or FUT method is employed. While both are accurate and sturdy techniques, you need a surgeon and centre that can determine the ideal way to enhance your hair's aesthetic appearance.
Using the advanced technology and facilities at Med Esthetiks, Dr Lokesh Handa has the proficiency and profound knowledge to comprehend the nuances of the hair transplant procedure. With extensive expertise, he assures exceptional results with utmost precision.