How to Get Rid of Breast Buds in Males?
Dr. Lokesh Handa
Breast buds are the initial sign of puberty. As a result of the hormonal changes, the breast gland develops to form a breast bud. It appears both in males and females. In females, they continue into the breast tissue and breast development and in males, they degenerate in normal conditions.  However, in some instances, breast buds persist in males resulting in further breast enlargement. This disorder is medically termed Gynecomastia. The only effective treatment for this condition is Gynecomastia surgery in Delhi.
Gynecomastia affects a large segment of the male population worldwide. If you develop gynecomastia in adulthood, consult your doctor. It helps to rule out any abnormalities. A thyroid disorder and alcohol and drug use may increase the risk of male breast enlargement. It gives the appearance of  female breast  or "man boobs."
What is Gynecomastia Surgery?
Gynecomastia surgery or male breast reduction is the most effective treatment for enlarged male breasts, and it is surgical removal of excess fat and breast glandular tissue. Thereby imparting a flat, firm, and masculine contour to your chest.
Are there any complications with Gynecomastia?
Though it does not cause any medical complications, it results in psychological and emotional issues. The evident appearance of breasts embarrasses them. It makes them uncomfortable and insecure about their appearance. Anxiety, low esteem, and a lack of confidence are a few concerns associated with male boobs.
Why is Gynecomastia Surgery Performed?
Male breast enlargement makes you feel awkward. They resort to dietary changes and rigorous workouts to reduce their breast size. It is because they mistake the condition for breast fat. However, it becomes resistant to diet and exercise along with a massive breast.
Gynecomastia haunts you with the burden of large breasts. Moreover, it prevents you from activities on the beach and swimming. This also inhibits them from their favourite outfits. So gynecomastia surgery in Delhi is the only practical solution for male breast enlargements.
This desire for a flat, toned chest overcomes their worries about restrictions and goes for the surgery.
Ideal Candidates for  Gynecomastia surgery
Men whose breast enlargement  cannot be cured with diet, exercise, and alternative medical treatments
Physically fit without any chronic illness.
Free from any disorders  that can interfere with healing
Non-smoker and non-drug users
You have a positive  attitude and specific aims in mind to recover from the symptoms of gynecomastia
optimal  body weight
You should have realistic expectations
You are concerned about large breasts
Techniques in Gynecomastia Surgery
There are two techniques widely used. It depends on your requirements and the operating surgeon.
Liposuction Technique -It is implemented if abnormal fat cells are the cause of gynecomastia
Excision Technique -This technique is preferred when breast glands or excess skin needs to be excised to correct the gynecomastia.
In many cases, a combination of Liposuction & Excision is also performed.
The Gynecomastia Surgical   Procedure
Male breast reduction or gynecomastia is a minimally invasive daycare procedure. That means you don't need a hospital stay and return home the same day within a few hours of surgery. The procedure begins with the administration of anaesthesia. Your surgeon makes a 3-4mm incision on the areolar region of the breast. A small cannula is inserted to collapse the fat cells using the innovative VASER technology. The fat cells are removed through liposuction and are suctioned out. The same incision gives access to your breast gland, which is excised or eliminated. Once the surgery is completed, the wound is closed with absorbable sutures.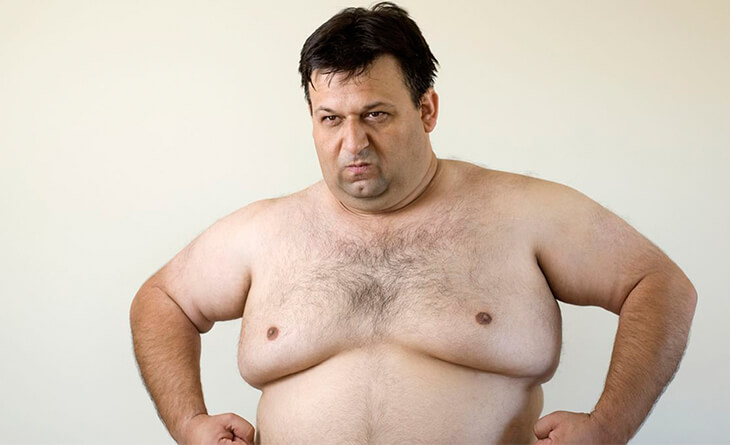 Recovery from Gynecomastia Surgery in Delhi
Recovery takes around 6-8 weeks. Swelling and bruises are expected, and they regress within 24-48 hours. Antibiotics and painkillers are prescribed to expedite healing and soothe the pain. You can resume back to routine activities in a few days. A compression garment is given to wear 24/7 for 3-4 weeks. It moulds your body to a new contour.
The results from Gynecomastia Surgery
You get immediate results from the gynecomastia surgery, and the results are permanent. During Gynecomastia, a liposuction procedure removes the fat cells and eliminates glands. With the excision of the glands, the leading cause of breast enlargement is removed, leaving no possibility for the relapse of gynecomastia. Even any hormonal imbalances cannot influence the condition due to the absence of the gland. The accumulation of fat cells may happen rarely. However, it does not cause major breast enlargement.
You don't want your boobs to stick around — no man does. By comprehending the root causes of gynecomastia and working with a compassionate and experienced doctor who understands your goals, you can put yourself on the path to a sculpted and healthier body. Your man boobs don't have to define you!
For the best gynecomastia surgery, you need an expert like Dr. Lokesh Handa for the best gynecomastia surgery in Delhi. A leading specialist in every technique mentioned above, Dr. Handa uses the latest equipment available at Med Esthetiks for holistic procedures that prioritize patient safety and promise natural-looking, gorgeous results!