Is Gynecomastia Surgery Major or Minor?
Dr. Lokesh Handa
Every man wishes for a flawlessly sculpted chest, and a masculine and well-built chest is defined by its contour and tautness. However, the chest can become droopy and protrude due to various reasons, and this condition is known as gynecomastia. Although gynecomastia is not dangerous, it can affect a person's self-esteem and confidence.
If you are experiencing the same condition and feeling self-conscious, don't fret. Gynecomastia surgery in Delhi can help to reduce breast size and achieve a sculpted chest.
What is Gynecomastia?
Gynecomastia is a condition in which there is an abnormal development of breast tissue in males. This can cause the breasts to appear larger than normal and can be a source of embarrassment and discomfort for affected individuals. Various factors, including hormonal imbalances, certain medical conditions, and the use of certain medications, can cause the condition. Gynecomastia can affect one or both breasts and occur at any age, although it is most common in adolescent males and older men.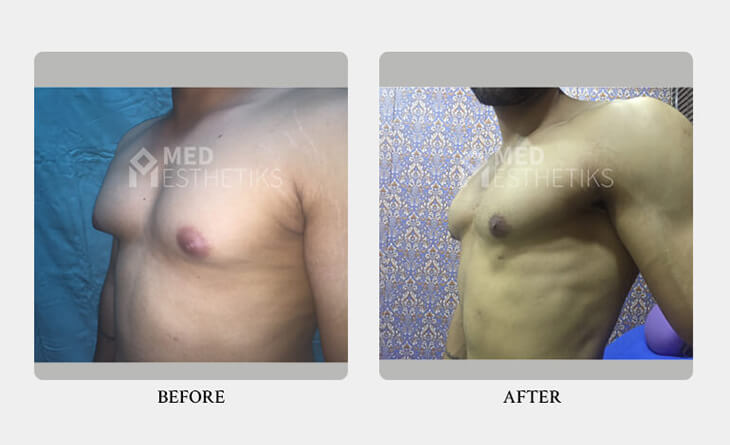 Is Gynecomastia Surgery Procedure Major or Minor?
Gynecomastia surgery, also known as male breast reduction surgery, is considered a minor surgical procedure. The surgery typically involves removing excess breast tissue, fat, and skin from the chest area to create a flatter, more masculine chest contour. The procedure is generally performed on an outpatient basis and recovery time is usually around 2-4 weeks.
Although Gynecomastia surgery is safe, it carries some potential risks and complications. After the surgery, you may experience some discomfort, swelling, and bruising, but this can be managed with pain medication prescribed by your surgeon.
Recovery time for gynecomastia surgery in Delhi varies from person to person, but most patients can return to normal activities within a few days and resume exercise and other strenuous activities within a few weeks. The extent of the recovery period will depend on the specific technique used and the individual patient's healing process.
Who is an Ideal Candidate for Gynecomastia Surgery?
A man who is self-conscious about the size of his breasts and has firm, elastic skin that will reshape to the chest contour is an ideal candidate for gynecomastia surgery. Specifically, a good candidate for gynecomastia surgery procedure is someone who:
Has excess breast tissue that cannot be reduced with diet and exercise alone
Is not significantly overweight
Does not smoke
Has a normal hormonal balance
Does not have any underlying medical conditions that may affect healing
Has completed puberty and has reached a stable breast size
Is emotionally stable and able to decide on surgery
Is not taking medications that can interfere with healing
Have realistic expectations from the surgery
Ready to Meet Gynecomastia Surgeon
The decision to have gynecomastia surgery in Delhi takes work. Consult a board-certified plastic surgeon to discuss the procedure, potential risks and complications before undergoing surgery. The surgery is typically performed as an outpatient procedure using either a traditional surgical technique or liposuction. Recovery time can vary depending on the individual case, but most men can return to normal activities within a few weeks.
If you are looking for gynecomastia surgery, book your consultation with Med Esthetiks.