How Many Sizes Can You Go Down in a Breast Reduction Surgery?
Dr. Lokesh Handa
As the age advances, a woman often encounters many issues; enlarged, hanging breasts is one of them. Post-pregnancy body changes also lead to disproportionate, massive bosom. Also, women with extra weight often have huge breasts, preventing them from wearing the attires of their desire. There can be breast enlargement primarily in young females known as gigantomastia, which often raises concerns.
The remedy is breast reduction surgery!
Breast reduction surgery is increasingly becoming a popular procedure amongst women of all ages and backgrounds. The procedure helps reduce the breast size to make them more proportionate to the body and helps regain the posture.
So the question is, how many sizes can you go down in a breast reduction surgery?
Let's find out the answer!
Heavy breasts, at times, are a constant source of stress. Physically, women might benefit from breast reduction surgery by gaining ease and convenience in their lives. Thus, many women's lives are impacted by their decision to have breast reduction surgery. Although the majority of patients who come to the clinic want to know how big they can go with a typical breast augmentation, there are a few who want to go the other way.
What is breast reduction surgery?
Breast reduction surgery, medically referred to as reduction mammoplasty, is a surgical technique that involves removing extra tissue, fat, and skin from the breasts to reduce their size. It is a frequent operation in plastic surgery, and the treatment entails surgically altering the breasts to reduce their size.
Anyone can choose breast reduction surgery for aesthetic or medical reasons, including to address difficulties such as:
Limited physical activity
Excessively big breasts cause low self-esteem or social distress
Neck, shoulder, and back symptoms that don't go away
Rashes and skin irritations under the breasts
The discomfort of the back, neck, and shoulder, unpleasant bra strap grooves across the shoulders, and bent posture plague many women, limiting their ability to function normally. However, it's crucial to discuss the sizes a person go down in breast reduction surgery.
Size Reduction
The extent of breast reduction possible with reduction mammoplasty is determined by various factors, including the volume of the breasts before treatment, their composition, the type of incision used, and the patient's specific goals. With breast reduction surgery, most women can lose from 400g upto more than 1 kg of breast tissue per side, where 200g tentatively equates to 1 cup size. While preserving an appealing and proportionate body form, breast reduction surgery in Delhi is typically adequate to address the various difficulties associated with overly large breasts.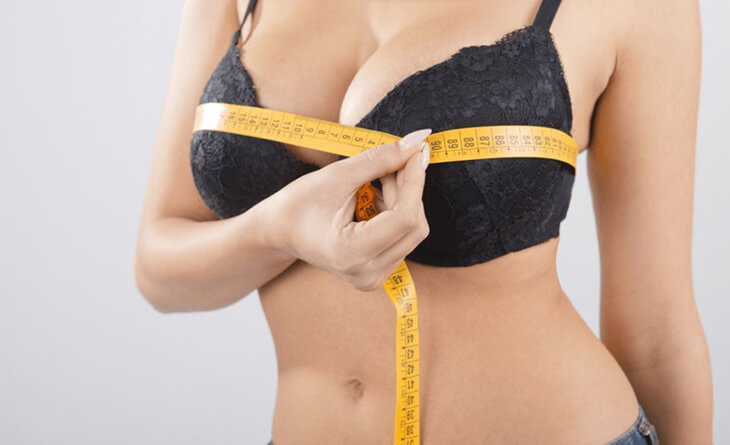 Here are a few questions to ask your surgeon while deciding the size for breast reduction surgery.
For a woman who has been fairly huge for a long time, a major reduction in size might feel like surgery. In addition, most women desire a proportion between their hips and bust line. While smaller breasts have their benefits, there may be an unfavourable imbalance between hips and breasts.
The solution to that query has to do with the nipple's blood supply. There must be enough breast tissue on which the nipple rests to give an appropriate quantity of blood flow to the nipple. The nipple receives its blood supply from the breast tissue, and if there isn't enough, it will suffer from a lack of blood flow, resulting in its loss. Various breast reduction procedures are used to preserve sufficient blood supply to the residual breast tissue to preserve the nipple's survival.
There is no one-size-fits-all solution. The amount of breast tissue isn't the issue; what matters is how much blood flows through it and reaches the associated nipple. In theory, you could remove practically all of the breast tissue while leaving the blood supply intact and still be ok. The truth is that this would result in a strange-looking breast. From a practical standpoint, reducing the breast more than that permitted based on markings for the breast may jeopardise the nipple blood supply.
The surgeon should remove the nipple, reduce the breast size without regard for the nipple blood supply, and then the nipple should be reinserted as a skin graft. However, feeding will be impossible, the sensation will be significantly lowered, and the new nipple will be flatter. However, these concerns are worth it for several women who are bothered by enormous breasts.
Conclusion
Many risks and complications are associated with the surgery. Nevertheless, it can be reduced if an expert surgeon performs the surgery. Dr Lokesh Handa at Med Esthetiks will analyse your physical condition, review your medical history, and decide your suitability for breast reduction surgery during your initial appointment.
He will work together to create a personalised treatment plan that matches your unique goals and intended outcome.To examine instances of Dr Lokesh Handa's excellent breast reduction surgery outcomes, simply refer to our before and after gallery.