How Long After Thigh liposuction Surgery Can I Exercise?
Dr. Lokesh Handa
Liposuction Surgery for thighs is a minimally invasive surgical procedure that removes the excess fat from your inner and outer thighs. It removes the fat that otherwise has not been removed  through rigorous exercise and a restricted diet.After a thigh lift, many patients are eager to get out there and show off their newly toned legs. But before you hit the gym or take that morning run along the beach, you need to make sure that your exercise regimen is tailored to your recovery.
For a smooth and comfortable recovery, patients are advised to strictly follow all their doctor's post-operative instructions, including postponing strenuous physical activity for up to four to six weeks.
Consequences of Exercising Too Early After Thigh Liposuction
Exercising too soon after your thigh lift can lead to complications that prolong your recovery. You want to avoid that at all costs, and to do that, you need to take it easy, especially during the initial weeks after surgery. In case of over-exertion following your thigh lift surgery, you risk experiencing some of these complications.
Bruising and Swelling
Extreme exercises or heavy lifting before you are ready can also cause prolonged bruising, soreness, and swelling.
Reopening of Incisions
Exercising too hard can put a lot of stress on incision sites and is one of the most common causes of splitting open of wounds. This may further results in infection and at extreme stages, leads to further surgical procedures.Thus affecting your time and money.
Prolonged Recovery
When you have not healed completely, strenuous exercise can worsen side effects, exposing you to several complications. With complications come pronounced pain and delayed recovery.
Infections
If you exercise with wounds that have not healed completely, you risk getting wound infections which can be devastating for your recovery and results.
Excessive Scarring
Exercising too soon leads to excessive scarring making a patient experience a sense of tightness that can translate to soreness, pain, and unpleasant results.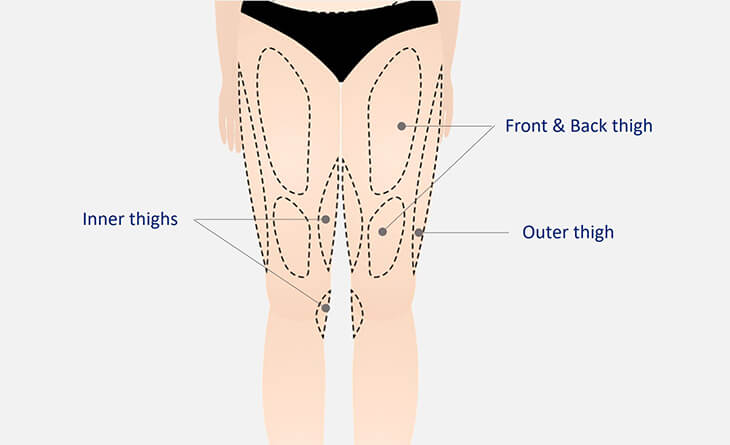 How long does it take ideally to exercise after a thigh Liposuction?
You can only ease back into exercise routines when your surgeon clears you. Stay positive, follow your doctor's instructions, eat healthily, and often rest to give yourself the best chance at optimal healing.
Even though major exercise is restricted during the initial six weeks after your liposuction surgery, your surgeon will encourage light activities like short walks and other gentle exercises as an important part of your recovery. This is essential as it promotes blood circulation and prevents the formation of blood clots and other complications that occur when people stay too idle after surgery.
Are you concerned about the look of your legs?
You may be a candidate for thigh liposuction surgery. Schedule a consultation with Dr. Lokesh Handa a board-certified plastic surgeon to help you understand the surgery process, post-operative care, and workouts during the recovery phase. Dr. Handa's expertise, combined with innovative techniques and state-of-the-art facilities, exceptional treatment, and patient care with natural aesthetics.